I keep getting tagged in books tags…and I'm loving it! They're so much fun to do! When I saw that I was tagged in a Disney Princess post, I was all gung-ho and started it right away!  I really love Disney Princesses – yes, I'm a child at heart.
This wonderful book tag was created by both Zuky at BookBum and Mandy at Book Princess Reviews. I was tagged by Madge at Caffeinated Bibliophile. Thank you so much for tagging me!
I'm going to try and not repeat myself, for a few of these questions are similar to a book tag I did last week. But I'm most definitely going to have repeat answers…sorry!
Let's get started!
---
Rules
Mention where you saw the tag/thank whoever tagged you because that's always good fun.
Tag Book Princess Reviews and BookBum with our posts so we can check out the wonderful Princess fun throughout the blog world.
Play a game of tag at the end!
---

Snow White: This Book (like the movie) Started It All
Favourite debut book from an author
Well, I can't pick one. That is literally impossible. I think a top three choice is more than far, so that's what I decided to do. They are The Sun Also Rises by Ernest Hemingway, Harry Potter and the Philosopher's Stone by J.K. Rowling, and The Outsiders by S.E. Hinton.
---

Cinderella: A Diamond in the Rough
Like Cinderella, you didn't expect much out of this Character in the Beginning but they turned out to be a Total Gem
Alec Lightwood from The Mortal Instruments series by Cassandra Clare. At first, his character drove me bonkers. I trued to have sympathy for him, but he would do something so rude that it all slipped away. Throughout the series, I started to really like him (and the Malec love). He eventually became one of my favourite characters and I felt so bad for giving him a bad rep at the beginning of the series.
---

Aurora: Sleeping Beauty
A Book that makes you Sleepy or just could Not hold your attention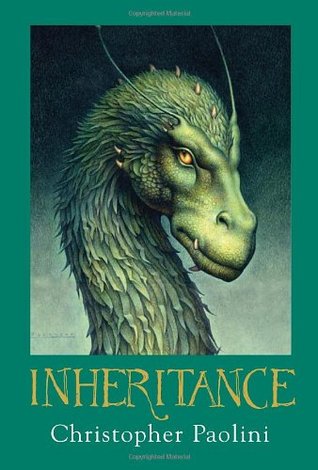 I have a feeling some people are going to be completely flabbergasted by this, but it is what it is. Inheritance by Christopher Paolini is one of the few books I started but didn't complete. I was utterly bored, finding no reason to continue reading it when I had an abundance of other wonderful books yet to explore. The first few books were phenomenal – but I feel as though the series should have stayed a trilogy and not moved to four books. It was drawn out and felt repetitive.
---

Ariel: Under the Sea
A Book with a Water or Ocean Setting
I know, I know – I already mentioned this author. But I can't help it! Read some of his work and then come back to me ha-ha! Anyways, Ernest Hemingway's The Old Man and the Sea definitely fits under this category. As with all his works, this book is full hidden symbolism's and deeper meanings. If you have read and liked his other works, you should give this one a go.
---

Belle: Beauty and the Books
Name a Book with the Best Bookworm/Book Lover
Okay…I have two. I know it says "a book"…but I really don't want to obey the rules at the moment. The first is Roald Dahl's Matilda. She has to be one of the biggest booknerd's in all literature! She goes to the library herself at a young age, teaches her self an abundance of things from books, and is just overall adorable! The second is Hermione is J.K. Rowling's Harry Potter series. Seriously, how many times has she mentioned reading some sort of fact in a book?! I think during my next re-read, I'm going to count this and find the answer. Both of these characters are fundamental when it comes to discussing bookworms and book lovers in literature.
---

Jasmine: The Thief and the Princess
Name a Book with an Unlikely Love Story (Either in terms of Romance or you didn't expect to Love so much)
Easy – Lord of the Flies by William Golding. I really enjoyed this book, even with all the dark and gloomy bits that go along with it. The writing was superb and the story itself was terrifying yet intriguing. I couldn't put the book down – which made my English teacher roll her eyes since I wasn't supposed to finish the book in a day…woops! It's a true classic, one that I think many bookworms would thoroughly enjoy! It's dark and gruesome and twisted in all sorts of manner, but the concept is really fascinating with pretty surreal (yet sadly realistic) outcomes.
---

Pocahontas: The Real Life Princess
Name a Book that is based on a Real Life Person you want to read/have read
I'm sad to say that I've actually never read The Diary of a Young Girl by Anne Frank, one of the most brave and thoughtful individuals known to mankind. This book has been on my TBR list for way too long. Every time I decide I'm going to read it, my stomach just goes into knots and I decide I'll wait…this has been a common practice since high school. The thought of knowing such a terrible thing happened and knowing the outcome before even starting the novel is just devastating. Bad excuse, I know. It's the same feeling I got when I found out the Disney version of Pocahontas is drastically different than the actual tale – it made it really hard to watch the Disney film since it felt so fake and made me think of the actual story. Nevertheless, I do plan to read Anne's diary – I'll be using a lot of Kleenex.
---

Mulan: The Princess that Saved Her Country
Name the Fiercest Heroine you know
Again, another easy one. Lyra Belaqua from Philip Pullman's His Dark Materials Trilogy is the most amazing character, as she continues to be one of my favourites to this day. Lyra is full of sass and she's extremely stubborn, not letting anyone get in her way when it comes to doing what she believes is right. She cares a lot for people, though she won't admit it. Her commentary throughout the series is superb, making you laugh one minute then tense the next as she says something she really shouldn't. Only in her early teens in the series, her courage and independence are envious. To this day, I wish to become a woman like her – maybe not as blunt though.
---
Tiana: The Princess with the Coolest and Most Diverse Crew
Name a Diverse Book, whether it is a diverse set of characters (like Tiana's group of Naveen, Louis, Ray, and more) or just diverse in general
One book that I found really explored diversity is Kelley Armstrong's Darkness Rising Trilogy. A young adult supernatural novel, the book explores supernatural beings from within and beyond North America; two examples of this are Native American and Italian cultures. Some of these beings I had never heard of before, which was really fascinating. The race and ethnicity of the main and side characters also demonstrates diversity. For instance, the main characters are Native American, Italian, and Hispanic. The LGBTQ+ community is also present, though very minimal. One of the reoccuring characters openly states she likes women, though this doesn't get explored as much in the novel due to the central focus being on the supernatural elements. It's refreshing to read a series that has people with different backgrounds and sexual orientations as main characters, making it feel more real and relatable to the world around us.
---
Rapunzel: Let Your Longggggg Hair Down
Name the Longest Book you've ever read
The longest book I've ever read is J.K. Rowling's Harry Potter and the Order of the Phoenix, which is approximately 870 pages long. Sad thing is…I finished this in a day…I couldn't help it! This is also my second favourite book in the Harry Potter series, with Harry Potter and the Goblet of Fire being the first. By the end of the POPSUGAR Book Reading Challenge, I should have a new record of just over a 1000…you'll find out eventually!
---
Merida: I Determine My Own Fate
A book where there is No Love Story/Interest or isn't needed
I decided to go with Mary Shelley's Frankenstein; Or, the Modern Prometheus. There's the love story in the sense of finding a family and where to belong, but it isn't the traditional two people fall in love and what not tale. It's dark yet extremely beautiful, with the Monster having such a childlike innocence to him (I cannot stand the films where they make him this borderline serial killer…). A love story is most definitely not needed; if anything, I think a love story would take away from the beauty of this novel. It's about finding your way and discovering the world around you. There's so many deeper meanings to this novel that there would be no room for any romance or love interest.
---
Anna & Elsa: Frozen Hearts
A book with a Winter/Cold setting
Well…this wasn't as easy. I never realized how many books have a winter or cold setting in them until this book tag. I started going through the books I've read and the ones on my TBR list and counted more than I expected. I decided to go with Robert Munsch's 50 Below Zero. The images are beautifully done and the story is definitely memorable, as most of Robert Munsch's works are.
---
Moana: How Far I'll Go
A character that goes on a journey
So many books! I tend to read a lot of fantasy and Sci-Fi, which typically have someone going on a journey or adventure. I decided I wanted to challenge myself a little and pick a novel that isn't fantasy or Sci-Fi; I wanted to pick a book from a different genre, such as historical or coming of age. One book that is really about a journey is Barbara Smucker's Underground to Canada, a historical fiction about two girls who journey to Canada in order to escape slavery – a journey for freedom. It was a school read when I was in elementary school, one that really opened my eyes to what our world could've still been if people didn't stand up for themselves and others. It also made me realize the kind of person I want to be and to be grateful for what I have. This book is brilliantly written, both in the uplifting and devastating sections of the novel. For me, this is one of my top books to recommend to others.
---
Oh my goodness, this took me way longer than I anticipated! Thank gosh I did this a week in advance! I guess it's my turn to tag people now! Thank you again Madge for tagging me, and thank you Zuky and Mandy for creating such a fun tag!
Tag! You're it: Emma @ The Stalked Shelf | Mikaela @ The Well-Thumbed Reader | Andja @ The Whimsical Hobbyist | Priyasha Anand @ Books and Co. | Patty @ Moonshine's Corner | Melanie @ Mel To The Any | Dee @ Novel Deelights | Debbie @ Debbie's Library
Have fun!