"They didn't spend much time with the girl penguins, and the girl penguins didn't spend much time with them. Instead, Roy and Silo wound their necks around each other. Their keeper Mr. Gramzay noticed the two penguins and thought to himself, 'They must be in love.'"
Beautifully written and eloquently illustrated, Richardson and Parnell's And Tango Makes Three is a truly magnificent children's picture book that positively portrays the importance of family and love. Following the story of two male penguins who love one another dearly, Richardson and Parnell demonstrate in a fun and profoundly unique way that both the concept of family and the different forms of love appear in a variety of ways; through literature, these two authors are able to draw upon the importance of understanding we are different and accepting these diversities. Will Roy and Silo make their dream come true in growing their own family?
---
Title: And Tango Makes Three
Author: Justin Richardson, Peter Parnell, Henry Cole (Illustrator)
Age Group & Genre(s): Children's Literature, Animals, Picture Book, LGBTQAI+
Mood: Light-hearted; Warm, Cheerful, Happy
Point of View: Third Person
Pace: Fast-paced
Publisher: Simon & Schuster Books for Young Readers
Publication Date: 2005
Format: Hardcover
Pages: 32
In the zoo there are all kinds of animal families. But Tango's family is not like any of the others. This illustrated children's book fictionalizes the true story of two male penguins who became partners and raised a penguin chick in the Central Park Zoo.

Source: Goodreads
---
Thoughts
For those who aren't new to Bookmark Your Thoughts, you already know my love and adoration for children's literature. The immense amount of value put into the words and imagery…it's just mesmerizing! There's definitely less room to add such value in comparison to lengthier novels, but authors of children's novels seem to find a way to make them still so powerful and meaningful.
I've been meaning to find more literature that raises awareness to those who identify as part of LGBTQ+. I felt rather odd saying I advocate and support those who identify as such, yet have read barely ANY literature with characters (let alone main characters) that identify as homosexual or transgender or so forth. Thus, I began my search and found And Tango Makes Three. This book was a perfect choice, for the main characters are homosexual and it's a book I could use for my Let's Talk Banned Books posts.
Moment of truth: how did it far out?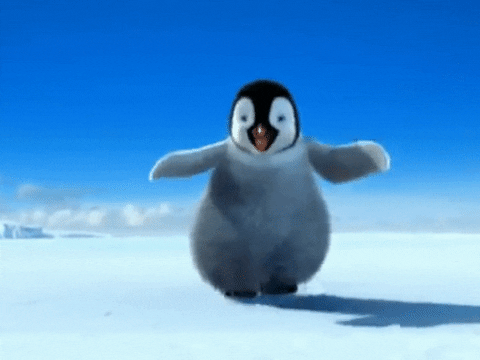 The feelings this book draws out of you! I was absolutely delighted and captivated by And Tango Makes Three! The story was stupendously endearing, bringing to light what the concept of family actually means. Not what we are taught in school, not what society dictates is socially acceptable, not what past and current forms of media state is right or wrong…but what it truly means to love both a lover and child.
The story is based on a true story about two male penguins who fall in love and raise a baby penguin of their own. Adorable, eh? A groundskeeper notices that two male penguins appear to be in love and are trying to have a baby like the other penguins…so, he gives them an egg that has no family. After the little one named Tango hatches, Roy and Silo learn what it means to be parents and help Tango grow up to be a pretty remarkable penguin.
Richardson and Parnell do a remarkable job with this story, bringing awareness to a variety of issues in such a short story. Adoption, same-sex relationships, learning to belong – this children's novel is a great piece of literature to introduce concepts outside of "the norm" to children in a fun-filled and interesting way. The story is linear and easy to follow, providing children an opportunity to learn acceptance and understand diversity through the method of storytelling. If I was a teacher, I would most definitely use this book in my classroom.
The character development isn't incredibly large…this is only a 32 page picture book! What I found wonderful is that I did feel growth happening with Roy and Silo even though the story is short. They learn what comes with being a parent, both the positive sides and the more challenging parts. There isn't too much development with their relationship, for the two start out loving one another. But it was still incredibly sweet. It also made it seem that right from the beginning, same-sex relationships are okay and normal! I actually liked how Richardson and Parnell began the book with them already together – Roy and Silo already knew their love for one another and accepted that their form of love is not wrong.
Though the character development is small, it's still strong and provides more depth to the story and the meaning behind the tale.
The artwork is simply wonderful! Cole did an incredible job providing artwork that is both colourful and vibrant, drawing children and adults alike in simply by the artwork alone. The illustrations have more emphasis than the words which I found worked for this novella, though not to the extent that we end up skimming past the words. It's a perfect book for parents or teachers to use when reading to children, utilizing sensory and visual aesthetics that tend to appeal to the younger generations.
Additionally, seeing the pictures of Roy and Silo trying to raise a baby is pretty funny…who doesn't want to read a book full of cute penguin images?!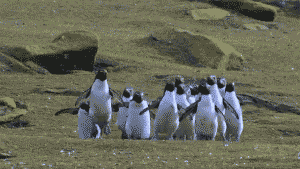 The language is simplistic and easy to follow, making this a fantastic choice for children. Richardson and Parnell tend to not use overly complicated words, allowing children to read it themselves rather than the adult read it. There isn't necessary a rhyme or tempo, but I found the language flowed well, gradually bringing you from one page to the next like a calm wave.
Overall, I loved reading And Tango Makes Three. It's a great book that embodies a number of rising issues that need to be addressed at an early age rather than later in life, such as same-sex marriage and adoption. People tend to not be open to things beyond what they consider the norm for they aren't introduced to it or accustomed to such things until much later in life…bad habit is hard to break when you've lived one way for so long. I feel this is a major reason there's this hate and disdain for those who identify as LGBTQ+. I'm not excusing this bad behaviour whatsoever – but why not we prevent such ignorance by teaching the younger generations that we are all unique and different, that love and family and friendship come in a variety of ways.
Richardson and Parnell's And Tango Makes Three is a wonderfully illustrated children's picture book that tells a remarkable tale of acceptance. Let's all learn to love a little more and learn to be a little more accepting, shall we?
Rating
Next Read Suggestions
In Our Mothers' House by Patricia Polacco
Mommy, Mama, and Me by Lesléa Newman
A Tale of Two Daddies by Vanita Oelschlager