"It's okay to be scared. Being scared means you're about to do something really, really brave."
With a passion for yoga and a desire to spread her joy to the world, Morgan Haley's Ab'Asanas eBook is a delightful read that will bring joy to any yogi or fitness enthusiast. Beginning her yoga journey in 2014, Morgan Haley's eBook brings to light the fundamentals of core strength and the importance of believing in oneself rather than comparing your beautiful self to the rest of the world. Clear in intention and easy to follow, Ab'Asanas is a fun eBook for anyone who wishes to work that core and see great results.
---
Title: Ab'Asanas
Author: Morgan Haley, Aubrey Fingerson (Photographer), Geneva Hicks (Illustrator)
Age Group & Genre(s): Fitness, Health, Healthy Living, Nonfiction, Sports, Yoga
Mood: Fun, Warm, Uplifting
Point of View: First Person
Pace: Fast-paced
Property: The Southern Yogi
Publication Date: 2017
Format: eBook
Pages: 55
Ab'Asanas (Expanded & Updated) is a yoga inspired eBook written by Morgan Haley that details how you can use yoga to develop a strong core — the most important foundation for any athlete or fitness seeker. This guide is available worldwide and is reasonably priced to make sure everyone has access to these proven routines and tips. Ab'Asanas (Expanded & Updated) will give you the tools you need to create a strong and efficient practice.

DISCLAIMER: Updated and Expanded is a revised version of my original ebook with newer photos, added quotes/illustrations, additional new exercises and a wrist flow and warm-up to keep you as safe as possible while practicing.

Source: Goodreads
---
Thoughts
Besides reading and wandering and hiding from society in my cute little apartment, I have an incredibly deep passion for yoga. For years I struggled to stay in shape and find something that made me want to love fitness; I sometimes become very upset with my past self for this lack of effort. In the summer of 2016, I found yoga…and I fell in love. The mental awareness, the feel of your body shaking during a flow, the incredible sense of accomplishment when you finally master a pose…it's simply a beautiful form of healthy living.
On my personal Instagram, I started following a lot of yogis for motivation when I need that confidence boost. Recently, I found Morgan Haley's Instagram account: the_southern_yogi . Her Instagram is a yogi's dream, full of beautiful poses and words of advice. What's wonderful about her Instagram is that she shows both her challenges and accomplishments, rather than just the perfect final pose and the perfect life. She's real and authentic, a breath of fresh air in the fitness world.
I've been wanting to start focusing on more advance poses, so I jumped at purchasing her Ab'Asana eBook. Is she as charismatic and motivational in her eBook as she is on her Instagram account?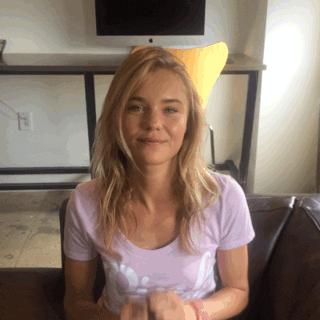 The Southern Yogi has outdone herself with this eBook, creating a fantastic guide for core strengthening and developing one's yoga practice. Full of wisdom and powerful words of encouragement, The Southern Yogi's passion for yoga and desire to help others achieve overall confidence flows throughout this eBook. By utilizing the advantages of digital world, she has made it extremely easy for anyone to use her Ab'Asanas anywhere at any time.
Let's get into this review…
Layout | The Content
Ab'Asanas begins with an introduction on Morgan Haley and her fitness experiences, providing readers with her intentions for sharing her core workout knowledge and to demonstrate she has the training to provide such information. This is extremely important in the world of fitness, as many people provide information on fitness when they have absolutely NO training! The Southern Yogi, however, does. With 10 years of competitive swimming and a number of yoga and AcroYoga qualifications, it's no wonder her book is so in-depth.
After the introduction and some disclaimers, The Southern Yogi gets into the good stuff! The eBook sections off into wrist warm ups, followed by 5 different core routine sections: High Plank, Boat, Floor, Hands & Knees, and Inversions. Each section has multiple exercises, providing readers with over 20 different exercises to play with. Near the end, she closes off with some options for you to Mix & Match the workouts and by saying her closing thoughts.
Each section has tips on what to focus on and how to identify if you're doing the movements correctly. The Southern Yogi does an impeccable job at providing detailed instructions on how to do the workouts and providing hints on how to place concentration on your core for the best results. Additionally, she gives feedback on how many times to do the workouts and how to incorporate them into your day.
Who's It For?
One of the most wonderful things about this eBook is that it's for anyone who wishes to improve their core strength. You don't have to be extremely fit or be a yogi, you just have to have the desire and motivation to do the best you can. Morgan does mention in the disclaimer that this may not be suitable to certain people with physical injuries, certain ailments, or those who are pregnant. If you wish to still try, you should consult your physician beforehand.
Though this is for anyone, that doesn't mean it's easy. These moves are tough, reminding you that yoga isn't simply stretching and a warm up. Building a strong core takes a lot of work and dedication. Additionally, Morgan reminds us that it's okay to struggle and not perfect certain moves right away. But most importantly, she reminds us of the following…
"As you work through this book, I want you to focus on quality as opposed to quantity. One excellent repetition is better than ten poorly executed ones."
Illustrations
Throughout the eBook, Morgan provides a number of photos demonstrating the process of the moves, which were taken by Aubrey Fingerson. Fingerson's pictures are crisp, clean and easy to follow. Additionally, the photos look natural, providing authenticity to the eBook and to Morgan as a yogi. So many fitness books provide these dramatically overdone and Photoshop looking images, when there really isn't a need for it. For me, it shows that Morgan is dedicated and focused on us, not on showing off her skills. She wants her eBook to be all about US as we learn to strengthen our bodies and improve ourselves.
Additionally, there are these SUPER CUTE little illustrations by Geneva Hicks that really provides an image of The Southern Yogi's fun and quirky personality.
Language | Ease of Use
Just like the photos though, the words are crisp and clear; I tested this on my tablet, Android phone, and my computer. Morgan gets straight to the point, detailing the moves and exactly what you should be doing throughout the first repetition of the movement.
Another thing I greatly appreciated is the constant reminder to breath and how to focus on the core. Sometimes, just saying "focus on your core" doesn't always cut it, and Morgan understands this. She provides fun tips on how to do this, such as pretending to zip up a tight pair of pants…which I found rather amusing. Using these real world examples that many can relate to helps tremendously.
The vibrant nature of The Southern Yogi's personality is illuminated in the text, making you wish you were her friend in real life. She's unique and original and full of love, filling her book with this mentality through the written word.
Trial Time: How it works & my Ab'Asana experience
So, how does it work?
Firstly, there are a number of ways you can go about doing the Ab'Asanas. Morgan mentions to pick a handful and work on them for about 10 minutes all together, excluding the wrist warms ups. ALWAYS DO THE WRIST WARM UPS! She explains the importance of this, so please read and pay attention. On the second last page, she provides examples called Mix & Match that show how you can incorporate a number of these based off of her own circuits.
The overall idea is to try and pick an exercise from every category, follow the repetition cycle she states in the exercise, and complete it in the time frame you need. The stronger you get, the more repetitions you can complete. Remember though, quality over quantity.
How did my experience fair out?
As I've mentioned, I have a year of yoga experience in my belt, meaning I've already done all of these before starting Morgan's Ab'Asana eBook…but that doesn't make them any less challenging. I've done every exercise in this eBook, and I can tell you that you'll get a sweat going. Rather than powering through a high number of repetitions and cycles, the goal is to do these slowly, really focusing on the core muscles engaging and maintaining your yoga breathing. It's intense, but that's kind of the point.
The only ones I find really challenging for beginners are the inversions. I do believe a lot of this is personal bias, since I have tendinitis in my right wrist and have to go attend physio to repair the damage. Thus, I have to modify most of these with fists…doing a borderline handstand with fists is NOT ideal. Inversions are also pretty scary if you're new to them, so a lot of it is letting go of the fear…I'm still working on that. There are ways to go around this, which Morgan mentions. Just know that you aren't meant to perfect any of these moves right away, for this is a journey of self-exploration and your overall fitness.
Best piece of advice from me? Don't get discouraged. I can do some pretty cool moves, but I do yoga 3 to 5 times a week so it's not from being naturally fit and flexible. You can do this.
Final Thoughts
The Southern Yogi's Ab'Asanas is a wonderful and fun eBook, showing you how just some simple moves can make a world of difference to your core. I've already noticed changes and it's been about 2 weeks since I started doing the exercises…that's pretty surreal. What I truly love about this eBook is that Morgan openly states NOT to focus on comparing yourself to others' bodies or hers; this is about you and your accomplishments. It's a really self-loving kind of mentality that flows through this guide, one that should be presented more often in fitness literature. Are you going to try the Ab'Asanas eBook?
Please visit her website to purchase this eBook and to learn more about The Southern Yogi!
Rating
Next Read Suggestions
#Letsstartyoga by Jessica Olie
Lights on Yoga by B.K.S. Iyengar, Yehudi Menuhin (Foreword)