After MONTHS pondering over this decision, I've finally decided to partake in the Top 5 Wednesday posts…woot!
Originally, I never participated since Wednesdays are my book review posting days. However, I'm not bound to a specific schedule. So from now on, I plan to alternate between TTT and T5W posts.
This weeks topic is books featuring a specific paranormal creature. I decided on ghosts and the dead…because I couldn't decide between ghosts and zombies…both are so creepy, I love it!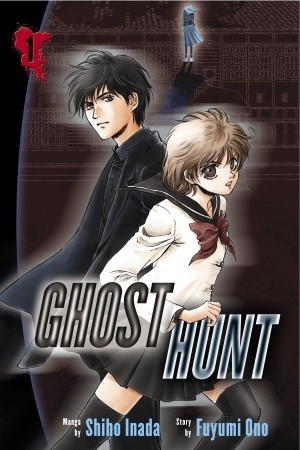 This manga series it so creepy and terrifying yet impossible to put down. The manga follows a group of ghost hunters who face a number of different ghosts, demons, and other supernatural beings. The characters are very lovable and the plot is dangerously intriguing. If you decide to read this, plan to book a day or two off; I can almost guarantee you won't stop reading until you've finished the series.
The TV show is just as good in my personal opinion (only in English Subbed)…but don't be like me and watch it at night…alone…it's horrifying.
---
It's been years since I've read this, and it STILL gives me the creeps. This classic Victorian horror story is not for the faint of heart. With Gaskell's flawless storytelling skills, readers will feel as though they're apart of this truly horrifying short story themselves. When a nurse and a child in her care go to live in the Furnivall Manor, a number of strange and obscure incidents begin to occur. As more phantom and menacing acts fall upon the residents of the manor, secrets of past mistakes and treacheries begin to unfold. If you want a story full of dark secrets and that poltergeist vibe, I highly recommend this short story!
---
Oh yes, you guys HAD to know I'd find a way to incorporate Kelley Armstrong into this list. But honestly, this series fits more than you may think it does. One day, Chloe Saunders is a normal teenage girl who's biggest worries were friends and boys and education. When she sees a man covered in blood and grotesquely injured, one that no one else can see, her life turns around completely. Sent to a home for the mentally ill, Chloe begins to see that she may not be as crazy as everyone thinks she is…rather, she may be gifted.
With all forms of supernatural beings (including a necromancer in the mix), this series grasps readers right away with the exciting plot-line and interesting paranormal beings. I've definitely read scarier pieces of literature, but there are definitely some creepy parts…scenes I was DEFINITELY not expecting.
---
The story is about a headless horseman…obviously this is a perfect fit for ghost stories! A fantastic classic horror story, The Legend of Sleepy Hollow encompasses a number of strange happenings in a peculiar town named Sleepy Hollow. Mysterious monsters that go bump in the night, a beautifully eerie ghostly woman in white, a horseman with no head, and secrets around every corner…this short story will keep readers at the edge of their seat from beginning to end.
---
Hey, no one said that the Top 5 Wednesday books for this weeks post HAD to correlate to Halloween. Charles Dickens is an absolutely astounding writer, who happens to be one of my favourite classical writers. In this Christmas classic, the miserable and grim Mr. Scrooge is visited by three different ghosts, all of which have different lessons for him in order to salvage is humanity and give back to those around him. Though a generally light-hearted tale, some of the scenes with Mr. Scrooge and the ghosts are rather eerie. Want a hauntingly beautiful Christmas tale? Pick up A Christmas Carol for the holidays!
Thank you all for reading! What ghost stories and zombie tales do you all enjoy?
Happy Reading!