Hello beautiful people!
There's only 7 weeks of this challenge…where did the time go?! Since this is coming to a close soon, I may have to try some other weekly challenge. If anyone knows of any, please let me know!
So…does sitting in my apartment daydreaming count as things I do for fun? Just kidding…not really. One of the things I actually really enjoy about my personality is that I have a LOT of interests; from gaming to the gym, my sources of entertainment are grand.
Without further ado, here are the TOP 5 THINGS I do for FUN!
---
I'd rather be reading
Well…this one's probably obvious. Though I go through reading slumps (such as now…), I still have a passion and unconditional love towards reading. I get to join multiple adventures, explore new worlds, live hundreds of lives, and learn things in the process. Even though I like to leave the books to see the world for myself, I still love how much joy I can get simply from picking up a book.
---
Log Out. Shut Down. Do Yoga.
Yoga is such a beautiful thing; whether to calm the mind or challenge your body through diverse movements, there's so many ways to find a meaning in yoga. I love learning how to calm my mind and trying advance moves. I haven't been practicing too much as of late, but I plan to get back into practicing yoga once my health is better!
---
Wander often, wander always
My number one joy in life is wandering. From travelling to other countries or exploring somewhere new locally, I simply love being in nature or somewhere new. We live in such a vast world, why stay in one spot when you can discover so much more?
---
Life isn't a merry-go-round, it's a rollercoaster ride!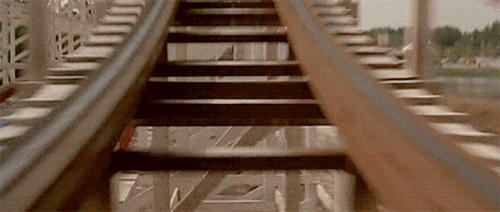 I have a confession…I have an OBSESSION with rollercoaster rides. The adrenaline, the excitement…it's just an amazing feeling! I used to HATE them as a kid, but then I went on one with my dad and fell in love with them. If I could, I would go to a rollercoaster theme park every weekend!
---
Friends make the world beautiful
I have this thing…where I'm REALLY awkward. Yup, it's a thing. I've always felt insecure with my quirkiness and odd habits. Even with these oddities, I still managed to find some really special friends, friends I consider my family. When I'm down and scared or super excited and giddy, I have people I feel comfortable sharing those moments with. Hence, hanging out with friends is definitely high on my fun-times list.
Well, that sappiness is over! Seriously though, I hope you all enjoyed this post. What do you all do for fun?
Happy Reading!