"Is it possible for home to be a person and not a place?"
Perkins' YA romance novel is an absolutely delightful read, capturing the essence and rawness of young love. Set in one of the most romantic places on the globe, Anna and the French Kiss follows Anna's adventure as she uncovers the beauty of Paris while juggling love interests, new friends, school gossip, film reviews, and family trials. A fast read illustrating the excitement and trials of high school, Perkins' coming of age story is a fun-filled read that leaves one feeling all warm and fuzzy inside.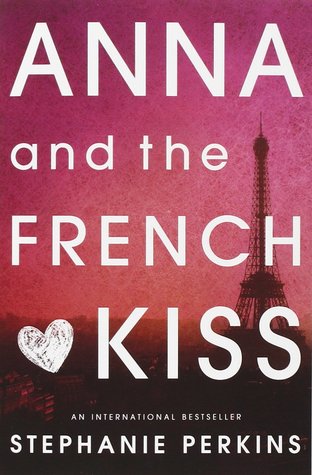 Title: Anna and the French Kiss (Anne and the French Kiss #1)
Author: Stephanie Perkins
Goodreads: Link!
Genre / Themes: Coming of Age | Contemporary | Realistic Fiction | Romance
Point of View: First Person
Publisher: Dutton Juvenile
Publication Date: 2010
Format: Hardcover
Pages: 372
Anna is looking forward to her senior year in Atlanta, where she has a great job, a loyal best friend, and a crush on the verge of becoming more. Which is why she is less than thrilled about being shipped off to boarding school in Paris–until she meets Étienne St. Clair. Smart, charming, beautiful, Étienne has it all…including a serious girlfriend.
But in the City of Light, wishes have a way of coming true. Will a year of romantic near-misses end with their long-awaited French kiss?
Source: Goodreads
---
There are minor spoilers to the story in this review; please do not read further if you wish to have the story completely unspoiled.
Perkins' young adult romance series has been at the back of my mind since I started book blogging…this series was EVERYWHERE back in early 2017! What shocked me is that this isn't even a new series – maybe everyone was just in the mood for one of those "lovey-dovey-feel-good" books, which is EXACTLY how I'd define this novel. Perkins' novel brings readers that nostalgic "falling in love" feeling, back to the feelings when simply being in someones presence made your heart swoon. It's very PG rated when it comes to sexual interaction; sexual intercourse is mentioned, but the most descriptive parts are kissing moments.
Though I'm not a huge fan of romance, I actually had fun reading Perkins' novel. There are a few things that didn't sit well with me, but it was overall an enjoyable read that had me excited to read the rest in the series!
---
Flawed characters & character growth
Perkins' novel is FULL of characters who have A LOT of growing up to do, which I felt accurately reflected the age range of the characters. I can't speak for all teens, but I know students in my high school went through many similar experiences: loving more than one person, trials in a "tense" relationship, falling for the same guy, personal views completely differing from family views, etc. While reading, the memories of what seemed like "end of the world" dramas from high school crept up and gave me a good giggle. It's rather relatable to teens who are just beginning to experience love and learning to become independent in other areas of their lives.
Though it could be rather frustrating, the flawed nature of the characters is what made them more interesting and "real"…why do main characters always have to be perfect? For instance, the main protagonist Anna is a lovable film critic-to-be who's very friendly and cares deeply for those around her. However…she can be down right RUDE and IMMATURE and MELODRAMATIC! Seriously, one minute I loved her and the next I wanted to shout "grow up" in her face. It was weird reading a book where I sometimes hated the main character…but it also made Perkins' novel much more entertaining.
The setting is "on Point"
A romance YA novel…set in Paris, France…how more PERFECT of a setting could such a story be?! Though I'm partially biased as I have an undying love for France, Perkins' decision to set the story in such an extraordinary place is "on point". There's so much history in European countries, and the beauty of the architecture and the landscape just made the novel feel even more amorous. Even the school Anna attends is beautiful, with gorgeous gardens and much more. Yes…it's rather cliché…but I think that's the point.
Easy to follow story & simple language
There are times I want to read complex pieces of literature with hidden messages in every sentence…and then there are times I simply want to read a book and not have to look too "deeply" into the written word. Anna and the French Kiss uses a simplistic yet exquisite language to convey this "fairy-tale" like story. In addition, the story flows in a very linear line, making it easy to pick up from where you left off without forgetting what happened previous. It's one of those "you don't have to think too much and can still enjoy it" kind of reads.
Relatable to the demographic it's written for
As I mentioned in the "character" section, the story's rather relatable to the demographic in which Perkins' intended it towards. From the stresses of deciding where to apply for post graduate studies to dealing with the "overwhelming butterfly" feelings of young love, it really portrays that "realness" of high school.
---
Morals in the story…
This section contains spoilers!
As you all probably know by now, I LOVE a book full of flawed characters…perfect characters drive me NUTS! But the ONE thing I very much disliked is how Perkins' novel condones cheating. St. Clair, Anna's love interest, is in a committed relationship when he meets Anna. Throughout the story, St. Clair and Anna constantly flirt with one another. Yes…it's emotional cheating…but it still counts.
Human beings aren't perfect, I know this more than anyone – it's actually rather common for people to grow a "crush" on someone while in a relationship – but most of the time this fades really quickly or the person leaves the relationship if the feelings don't seem to dissipate. What I found rather repulsive is St. Clair has this emotional cheating shenanigan going on…for most of the book…which is approximately a year. This is where the "moral dilemma" comes in for me. Though Anna's single, I also found it wrong of her to flirt back when she knew he was in a relationship. I kept feeling so bad for Ellie, St. Clair's girlfriend, that we barely know. It would've been interesting to see her and St. Clair's point of view during the story…but we only see Anna's…which made it hard to have sympathy for St. Clair and Anna.
Too much immature drama
High school is KNOWN for the drama…drama for days! The gossip, the "I liked him/her first" game, friends before boy/girl friends, the cliques…the list goes on. However, Perkins' novel just went TOO far with the immature drama. A lot of this stemmed from the character overreacting to situations and basically acting like angst teens. Anna's constant melodramatic tendencies and mood swings are a large part of this, in addition to St. Clair. I tended to avoid such nonsense in high school, so please note this is a very biased section of the review.
Instalove? You mean instalust!
This section contains spoilers!
For the love of all that is good…instalove is just unrealistic and brutal. I know…I'm such a romantic. Near the end of the novel, St. Clair discusses how he loved Anna the first time he laid eyes on her. You can argue with me until you're blue in the face, you CANNOT fall IN LOVE with someone YOU DO NOT KNOW! This, my friends, is called lust. This is my biggest problem with romance novels – it gives readers this unrealistic and flawed interpretation of love, causing a misinterpretation of what LOVE is.
---
At the end of the day, Perkins' Anna and the French Kiss is a completely and utterly adorable coming of age romance story that portrays so many elements between that fine line of being a teenager to a young adult; that part in life is full of a wide array of emotions and mental growth, which Perkins' illustrates beautifully. Even though I'm firmly against some of the morals in this story, Perkins' ability to story tell outweighed this flaw. And honestly, it IS a work of fiction. Are you looking for a lovey-dovey romance story?