"And it seemed to me that Dante's face was a map of the world. A world without any darkness.
Wow, a world without darkness. How beautiful was that?"
Aristotle and Dante Discover the Secrets of the Universe is an elegantly written coming of age story, one that's truly unique in the realm of YA literature. During one profound summer day, Ari and Dante meet and quickly become the closest friend they each have in the world. But when tragedy strikes and subsequent events occur, Ari and Dante's friendship is put to the test. Set in the 1980's, Sáenz's emotional roller-coaster of a novel opens readers' eyes to a world where openly discussed topics were once tabooed and what happens when you don't fit into the "norm" that society has dictated for us. An addictive story with tremendously brilliant characters, Aristotle and Dante Discover the Secrets of the Universe is nearly impossible to put down!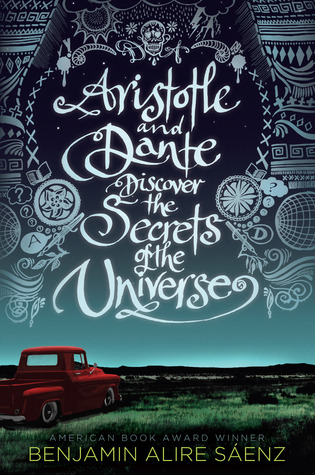 Title: Aristotle and Dante Discover the Secrets of the Universe (Aristotle and Dante Discover the Secrets of the Universe #1)
Author: Benjamin Alire Sáenz
Goodreads: Link!
Age Group & Genre(s): Coming of Age | Contemporary | LGBTQIA+ | Realistic Fiction | Romance
Point of View: First Person
Publisher: Simon & Schuster Books for Young Readers
Publication Date: 2014
Format: Paperback
Pages: 360
Dante can swim. Ari can't. Dante is articulate and self-assured. Ari has a hard time with words and suffers from self-doubt. Dante gets lost in poetry and art. Ari gets lost in thoughts of his older brother who is in prison. Dante is fair skinned. Ari's features are much darker. It seems that a boy like Dante, with his open and unique perspective on life, would be the last person to break down the walls that Ari has built around himself.
But against all odds, when Ari and Dante meet, they develop a special bond that will teach them the most important truths of their lives, and help define the people they want to be. But there are big hurdles in their way, and only by believing in each other―and the power of their friendship―can Ari and Dante emerge stronger on the other side.
Source: Goodreads
---
Another reading experience that illustrates why I follow book blogs and decided to start my own. After seeing an abundance of reviews on Aristotle and Dante Discover the Secrets of the Universe in the book blogging world in 2017, I decided to add it to my TBR list and give it a go. This marvelously stunning novel's impeccable beyond belief. Following Ari's POV, Sáenz's novel explores the essence of the ups and downs of "teenhood". Within two days, I finished this book and grew eager for the sequel…I don't know how the readers who read this back in 2012 have been able to patiently wait for the sequel.
CONTENT & TRIGGER WARNING: This book covers Post Traumatic Stress Disorder (PSTD), mental health (i.e. depression, anxiety), substance use (minimal). coarse language (minimal) and violence.
---
Beautifully poetic & descriptive language
This is the first of Sáenz's work I've ever read, and it won't be the last. The narration, the dialogue…the entire novel felt like a gigantic piece of poetry. Beyond poetry, I don't think I've ever read a piece of literature where you can tell that the author carefully considered EVERY word used in the novel. Sáenz's book's also remarkably descriptive as it truly captivates not only the scenery and character appearances, but it also effortlessly conveys Ari's inner demons and struggles to the reader.
Accurate depiction of the setting
The setting takes place in El Paso, Texas in the late 1980's. In comparison to today's society (though we still have room to grow), topics such as homosexuality and mental health weren't as greatly discussed with the general populace; this is GREATLY emphasized in the novel and is one of the major antagonistic elements that Ari and Dante and other characters face throughout the plot. Sáenz also made sure to focus on the small details that characterize aspects of the 1980's; this includes popular songs and music artists, the fashion style, certain popular sayings and phrases, and even the small details such as the wide use of cigarettes.
In-depth and real characters
The best element of Sáenz's novel is that the characters are constantly developing and growing, transforming by the end of the novel in comparison to chapter one.  Ari and Dante, the two protagonists, are so beautifully flawed and real…you forget that they're fictional characters. Sáenz really illustrates what it's like to be a teenage, slowly trying to figure out who you are and where you fit in this completely vast world.
Ari, the first person narrator, is complex not only to the readers and other characters but to himself. Unable to decipher and express his own thoughts and feelings, Ari struggles greatly with communication. Though this was hard emotionally at times since Ari struggles throughout most of the novel with a form of depression and expressive issues, it was great to see his development by the end of the novel. In comparison, Dante's rather comfortable with expressing his emotions and ideals to the world. It's great to see these two dramatically different people grow close, especially as Dante helps Ari discover himself and open up to those close to him.
Ari and Dante's parents, though very different from one another, are also fantastic characters. Just like Ari and Dante, Sáenz shows how even adults go through mental strife and need help from time to time.
Discusses heavy topics with tact
Now…the thing authors have to consider when they decide to write novels encompassing heavy and triggering topics is how to do this with "tact". I've encountered a number of novels that have NO trigger or content warning yet dive into such topics so bluntly that it can even make readers who aren't struggling in those areas have a hard time mentally and emotionally. Sáenz has learned the art of tactfulness and grace; he elegantly yet accurately discusses issues regarding soldiers suffering PTSD, mental health and depression, self-identity crisis, emotional detachment, and much more. It never felt as though Sáenz was trying to discuss too many issues, though there's A LOT going on in this novel. Not everything is tied off with a neat little bow by the end, but I would've been disappointed if it was; it's much more realistic this way.
As a warning, Ari and his family have a lot of mental health issues occurring throughout the entirety of the story. If you're someone who's going through some serious mental health issues currently, this may not be the best choice for you.
---
There are no woes!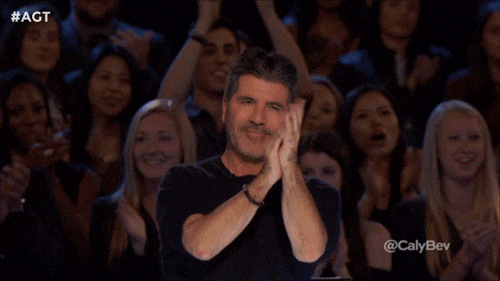 ---
You know you've just read a REALLY good book when it's all you can think about…that's how I feel about Aristotle and Dante Discover the Secrets of the Universe. It's been a week and I still haven't been able to pick up another book since my thoughts are still all about this beautiful piece of literature. Ari and Dante's bond's magical, something we all aspire to have in our own relationships; they aren't perfect and they encounter struggles, but Ari and Dante always find a way to work with one another's weaknesses and find ways to grow both individually and together. I have nothing but praise for Sáenz's book.