Hello beautiful people!
Thank you Laura Beth @ Hot Shot Headlines for tagging me in the Ultimate Book Tag! Guuuurrrlll…I have like 10 book tags to do that you tagged me in…you're the BEST!
All images are taken from Goodreads or GIPHY unless otherwise stated below the image.
The Questions!
One. Do you get sick while reading in the car?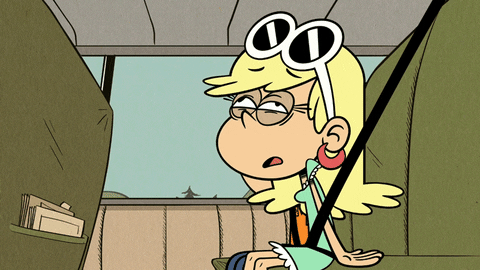 Yes…I do…it's the WORST THING EVER FOR A BOOK READER!
Two. Which author's writing style is completely unique to you and why?
Hmm…I don't know about completely unique, but I find Kelley Armstrong a very compelling writer. Even when the plot is not up to par, I STILL have this need to finish the book.
Three. Harry Potter Series or the Twilight Saga? Give 3 points to defend your answer.
Umm…Harry Potter…forever and always.
Point #1: It's the first major fantasy series I read and was obsessed with.
Point #2: The world is SO unique that her series is STILL legendary to this day…that's saying something.
Point #3: The magical beings and creatures in Harry Potter reflect the mythology…Twilight vampires sparkle…end of discussion.
Four. Do you carry a book bag? If so, what's in it (besides books …)?
It's actually my display picture on this website! I bought it at Chapters and I LOVE IT! It usually has a book (or two…), a pen and a notebook that where I can write some thoughts down.
Five. Do you smell your books?
…noooo…of course not…because that would be weird…and I'm completely normal…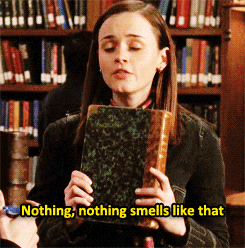 Six. Books with or without little illustrations?
Either or! I find it adds a nice little touch.
Seven. What book did you love while reading but discovered later it wasn't quality writing?
The House of Night series by P.C. Cast…don't know HOW I was so obsessed with this series.
Eight. Do you have any funny stories involving books from your childhood?
My mom once told me that when I was a toddler, I used to sit in my reading chair and read books ALL BY MYSELF…typically this was upside down and I just made my own story. She would ask if I wanted her to read to be and I would say, "I do it, I do it!". That's the only one I know of anyways…
Nine. What is the thinnest book on your shelf?
I'd Rather Be Reading: A Library of Art for Book Lovers by Guinevere de la Mare
Ten. What is the thickest book on your shelf?
This complete set of Arthur Conan Doyle's Sherlock Holmes series and short stories…it's HUGE!
Eleven. Do you write as well as read? Do you see yourself in the future as being an author?
I write poetry, though I don't see myself ever posting it ha-ha! I would like to write a novel and maybe get into poetry again…but I don't know.
Twelve. When did you get into reading?
My mom and dad tell me I've ALWAYS been a book worm…so probably before birth.
Thirteen. What is your favorite classic book?
To Kill A Mockingbird by Harper Lee and Winnie-the-Pooh by A.A. Milne.
Fourteen. In school what was your best subject?
English and Vocal Music were my best subjects!
Fifteen. If you were given a book as a present that you had read before and hated…what would you do?
Say thank you, accept it, then donate it…I know…I'm cruel…hey, at least I'm donating it! If it was someone I'm close to, I'd probably be honest and tell them it's not my cup of tea ha-ha! My close friends know me well.
Sixteen. What is a lesser known series that you know of that is similar to Harry Potter or The Hunger Games?
Seventeen. What is a bad habit that you always do (besides rambling) while filming?
I don't do videos…but I bet you it would be a lot of hand gestures…
Eighteen. What is your favorite word?
Besides the "f" word? Just kidding…not really. Seriously though, it's a tie between "nostalgia" and "serenity".
Nineteen. Are you a nerd, dork, or dweeb?
I'll just opt for all now.
Twenty. Vampires or Fairies? Why?
I love both, but fairies will always win. I used to be (and still am) HUGE into folklore, which one of my greatest joys was learning about all the different types of fairies.
Twenty-One. Shapeshifters or Angels?
Angels…Cassandra Clare and the television show Supernatural are to blame for that. #ilovecastiel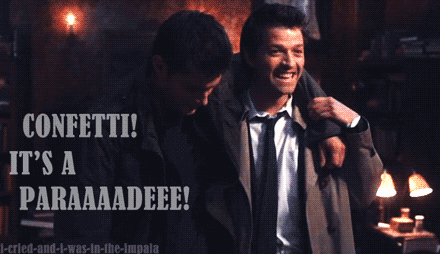 Twenty-Two. Spirits or Werewolves?
Werewolves! I'm somewhat biased since my favourite book series has this amazing werewolf character…*cough* The Darkest Power series *cough*.
Twenty-Three. Zombies or Vampires?
Depends on my mood…I love The Walking Dead, but I do love a good vampire or two. I'm going to say it's a tie.
Twenty-Four. Love Triangle or Forbidden Love?
Meh…I don't really care for either. But if I HAD to choose, I'd choose Forbidden Love. I can't STAND Love Triangles…
Twenty-Five. Full on romance books or action-packed with a few love scenes mixed in?
Again, it REALLY depends on my mood. This summer? Full on Romance. Typically? Action-packed with some romance.
---
TAG! YOU'RE IT!
GraceBought | Another Book in the Wall | Paper Fury
And, of course, anyone else who would like to partake in this tag!