Hello beautiful people!
I'm FINALLY starting to catch up on all the book tags — YAY!! Thank you Sissi, the owner of The Book World blog, for tagging me in the Dreamy Book Cover tag!
Sissi's blog is wonderful, so you really should head over and explore it if you haven't already done so!
The Rules
Thank the lovely person who tagged you, spread the love.
Mention Tiana @ The Book Raven as the creator of this book tag.
Use the original tag image in your post. (However, feel free to add whatever other graphics your heart desires.)
At least tag 1 fellow blogger for this tag.
List the rules.
---
No Ideas but in Things
A book cover that perfectly expresses the novel inside it
The covers cute and "silly" vibe going on is EXACTLY the feeling you'll get when reading this.
---
Dark and Lovely
A book cover that is so creepalicious you just want to eat it up
Ummm…I don't think I even need to discuss WHY I chose this…JUST LOOK AT THAT COVER!
---
Sugar Sweet
A cute cover that is so fluffy you want to give it a hug
Honestly…this cover is SO INCREDIBLY ADORABLE! I just love "romance/coming of age" manga stories…
---
The Simplistic Aesthetic
A book cover that stuns with the most MINIMALISTic of design
Yup — another manga by Io Sakisaka. I love the "water colour" look going on with this manga series. And the two "best friends" on the cover are also adorable too!
---
Cover Envy
A book cover you wish you had on your shelves, but don't yet
Oh…I know…I should've picked this up in 2018…it's happening, rest assured. I NEED THIS BOOK!
---
Travelling Abroad
A beautiful book cover featuring a country outside of your OWN
The Book Raven used Anna and the French Kiss book one, which I totally agree with. The entire collection is beautiful, but I'm going to go with book three!
---
The Colour Wheel
A cover that showcases one of your favourite colours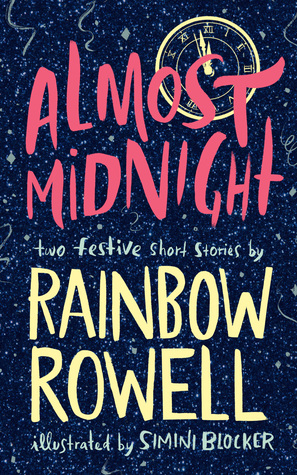 There's a few colours going on here, but my favourite is BLUE. The starry night aspect of this cover is very stunning…another book I plan to have…MUAH HA HA HA HA!
---
Switching Gears
A cover change that you absolutely adore
The revamp of the Anna and the French Kiss trilogy is really beautiful…smart choice with this cover change decision!
---
Oldie but Good
A favourite book cover of your favourite classic
There's something really beautiful about this cover — I also really like trees and nature, so that's probably a large reason why I like it.
---
And the winner is…
Which cover mentioned above is your favourite?
I just love the simplicity of this cover, and all the covers of this manga series. It shows you don't have to put a lot to have a beautiful cover while also depicting the essence of the content of the story.
---
Tag! You're It!
Kristin Kraves Books | Narrative Paradise | Hot Shot Headlines | Ashes Books & Bobs