"What's the point of having a voice if you're gonna be silent in those moments you shouldn't be?"
Following the powerful and important #blacklivematter movement, Angie Thomas' The Hate U Give is an inspirational story about fighting oppression and seeking equality for all. When Starr Carter witnesses a police officer commit a horrific act upon her childhood friend, her view on the world begins to crumble. This event becomes the catalyst towards Starr's self-discovery journey, as she tries to find how she fits into this complex world where she has to hide her true self in order to not only be accepted but to survive. An authentic piece of literature, Thomas dares to show the world the TRUE nature of how the oppressed are treated and how to fight for justice in a corrupt society.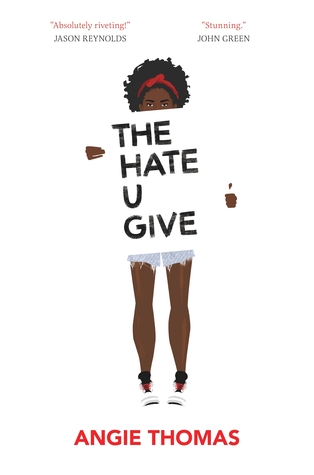 Title: The Hate U Give
Author: Angie Thomas
Links: Amazon CA | Book Depository | Goodreads
Genre / Themes: Coming of Age | Contemporary | Realistic Fiction
Point of View: First Person
Publisher: Balzer + Bray
Publication Date: 2017
Format: Hardcover
Pages: 444
Sixteen-year-old Starr Carter moves between two worlds: the poor neighborhood where she lives and the fancy suburban prep school she attends. The uneasy balance between these worlds is shattered when Starr witnesses the fatal shooting of her childhood best friend Khalil at the hands of a police officer. Khalil was unarmed.
Soon afterward, his death is a national headline. Some are calling him a thug, maybe even a drug dealer and a gangbanger. Protesters are taking to the streets in Khalil's name. Some cops and the local drug lord try to intimidate Starr and her family. What everyone wants to know is: what really went down that night? And the only person alive who can answer that is Starr.
But what Starr does—or does not—say could upend her community. It could also endanger her life.
Source: Goodreads
Oh my … this was a long time coming. Thank you to ALL of my fellow bloggers who kept giving me a slight "nudge" to read this novel. Thomas' exemplary story highlighting on the #blacklivesmatter movement is absolute perfection; not only is this book so well-detailed, but Thomas is not afraid to address societal issues and the corruption that feeds this hate and discrimination. Though this was a VERY emotional read, I felt as though I gained more insight regarding the elements required to make these movements grow and eventually create changes.
CONTENT & TRIGGER WARNING: This book contains emotional and physical abuse (references to child abuse), domestic violence, anxiety, arson, loss of a loved one (murder), drug abuse, intrusive thoughts, hate crimes, racism, violence (gun and physical), and police brutality.
Let's be clear — this is NOT JUST a black lives matter novel. The overall plot does follow the #blacklivesmatter movement, but it's so much more than this. It's about the women, the children, the old, the disabled, the culturally diverse, the religiously diverse, the visible and non-visible minorities … The Hate U Give is a testament to all the oppressed individuals and groups that are disregarded and shunned from society. THIS is what makes this novel not only important but legendary, for Thomas is able to give all of the oppressed people within society a voice, showing that they are important and they have the right to the same opportunities and ways of life as the privileged and unoppressed.
Starr's reaction to events are incredibly relatable, making her journey all the more memorable and authentic. Starr faces a number of threatening situation — the media's interpretation of events, the police officers' scrutiny and backlash, ongoing threats from the drug lords in her community. What makes her resonate so much with ourselves is her reaction to these events — terror. A large portion of the novel is following Starr's path to finding the courage to speak out and pave a path to change. It's not this natural brave inclination; it's slow and messy, but it does happen eventually. Her difficulty living as two different people — White, upper class society Starr and Black, lower income society Starr — also make her appear more real than fiction, for so many (especially the oppressed and the discriminated) individuals have to transform themselves to not only please certain groups of people but as a survival instinct. When did this become the normal?
Though there's a lot of darker content, Thomas is able to still bring love and joy to readers. The family dynamic of the Carter family really made this book come to life; they're love and compassion for one another and those in their community provide a whole new meaning to familial and community love. Starr's relationship with her "White" boyfriend does have some deeper social issues, but their quirky teenage love and undeniable care for one another are relationship goals. And although people seemed to hate on this a lot in other reviews, I loved the number of Harry Potter references. Not only did it make the story feel more connected to the real world, but Thomas did this deliberately for she drew inspiration from Rowling's Harry Potter series. Even though this is a difficult read, Thomas made it manageable through these uplifting and inspirational moments.
THUG LIFE — The Hate U Give Little Infants F***s Everybody. There's a special reason why this book is called The Hate U Give; Thomas found a YouTube clip about Tupac discussing THUG LIFE, about how society's treatment of individuals and groups within society will determine how they view the world and the people within it in the future. Through Starr's eyes, we see both the good and the bad — not all cops are racist, the government does breed corruption, and not all Black people are drug dealers or gangbangers. But when a cop racial profiles Starr and her friend, causing the death of another innocent Black youth, the community grows frustrated and fearful of the police force. And why wouldn't they? THUG LIFE isn't just shown with the shooting. It's shown through Starr's friends having no choice but to sell drugs to make ends meat, through White people doing "protests" as an excuse to cut class, as the big questions surrounding how drug lords get drugs in the first place … the real life issues are painted before us in this novel, for Thomas isn't afraid to shed light on these facts.

None in the slightest!
The love and appreciation I have for Thomas' The Hate U Give is beyond words; honestly, this has now become the most DIFFICULT book I've ever had to review. My emotions took over my logic, and I wanted to somehow express the beauty of this novel without spoiling it all for you — spoiling it basically ruins the whole journey experience for readers. This is the kind of literature we need nowadays, ones that strive for social movements that will make concrete changes one day. If you haven't read this yet, don't pull a "Jenna" (that's me) and wait FOREVER. Go pick a copy from the library or a bookstore, and give this powerful story a chance — I don't see how you would regret it.