Hello beautiful people!
Hmmm … I think I'm playing "book tags" tag with someone else as well now. Thank you Laura Beth @ Hot Shot Headlines for tagging me in this SUPER COOL tag, the A to Z Book Tag. This tag is H U G E — seriously, 26 questions worth to be exact. Honestly though … the longer the tag, the happier I am! The creator of this tag is Jamie @ The Perpetual Page-Turner — make sure to give her some love!
As I've mentioned before (and will continue to do so), Laura Beth is an incredible human being. She's extremely humble and kind, making you want to be her friend.


A |  Author you've read the most books from
Oh, this ones an easy tie between J.K. Rowling and Kelley Armstrong. The Harry Potter universe that Rowling has created is marvelous, both her original seven book series and with all of these prequels and side stories available to read. Kelley Armstrong was one of the first authors that I became OBSESSED over — her supernatural/paranormal book series and standalone novels are so thrilling and impossible to put down!
B | Best sequel ever
Harry Potter and the Goblet of Fire by J.K. Rowling was my favourite book in the series for so many reasons — but the BIG one was the content change. Books 1 through 3 are dangerous, but the plots more "innocent and fluffy". Books 5 to 7 are so much more "darker and sinister", moving away from that childlike innocence. But book 4 … book 4 is the transition book. The "fluffy and sweeter" parts are still in the story … but readers are shown the first BIG instances of deep seeded darkness compared to the 3 previously released novels. The dangers of dark magic and He Who Must Not Be Named become SO much more real. THAT'S why this books such an amazing sequel.
C | Currently reading
I've re-read this series on a number of occasions and never get tired of it. Armstrong's story and collection of characters in Darkest Powers are absolutely fantastic and draw readers in so well!
D | Drink of choice while reading
Coffee or tea – hands down! I tend to also have a bottle of water near by, just to keep hydrated.
E | E-reader or physical copy
Though I've grown to find the ease of use and convenience of e-readers, my heart will always prefer physical copies more. The feel, the look, the smell (yes … that's right … the smell) — there's nothing like a good physical copy to have.
F | Fictional character you would've dated in high school
This one's tricky … and I'm also going to go with people I would date now, because I had questionable choices back in the day. It's a tie between Dean Thomas from J.K. Rowling's Harry Potter series and Newt Scamander from J.K. Rowling's Fantastic Beasts series.
G | Glad you gave this book a chance
I don't know why, but there was a LONG TIME where I refused to read YA romance novels. Even though I opened up my reading genre to include this in 2018, I was still hesitant to give this book a go. But man … Alex, Approximately by Jenn Bennett was a really great read! Highly recommend!
H | Hidden gem book
Simone van der Steeg asked me to review The Chronister Cliff back in 2017, when I was still pretty new to the blogging world. I wasn't sure how I would feel about this book, but it was actually a really interesting story! The only reason I didn't read the other two books is because they weren't available in English at the time. Once the third book is translated, I'll definitely read the rest of the series!
I | Important moment in your reading life
This is going to sound really silly, but there are two that really stick out — the first time I REMEMBER buying my own book with my own money AND the first time I took a book out from the library.
I'm fairly certain I bought books before this one, but the first I remember buying with my own money was Harry Potter and the Goblet of Fire. My mom took me to the Chapters store in a city nearby since none were in our city, and I remember this big surge of joy as I stood inline an bought my first book. It was such a unique feeling, beyond anything.
The latter is such an old memory that I only remember bits and pieces. But back in elementary school, we were allowed to borrow books from the library and take them home. I remember filling out the library borrowing card that was inside the book in the pocket (I don't think they do this anymore) and putting the little piece of paper in my own library pocket that our teacher had for us when we borrowed library books. Knowing that I could consistently do this was MAGIC!
J | Just finished
As I mentioned previously, this series is just … there aren't words. The Summoning is the first book in the trilogy and I forgot how much suspense there is … and how much I love the main character, Chloe ha-ha! My review is actually coming out next week, so keep an eye out of you're curious!
K | Kind of books you won't read
I'm definitely a character and language oriented reader, so I don't really close myself off from genres. However, I have a REALLY difficult time with psychological thrillers — there aren't many I've read that I've been able to finish ha-ha!
L | Longest book you've read
To be honest, I'm actually not quite sure. But I'm fairly certain I haven't read a book longer than J.K. Rowling's Harry Potter and the Order of the Phoenix yet. I'm also not including collections and anthologies ha-ha!
M | Major book hangover because of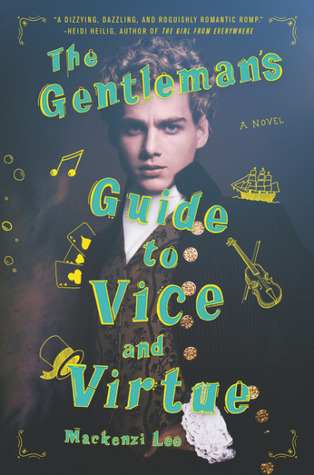 After Mackenzi Lee's The Gentleman's Guide to Vice and Virtue, I couldn't focus on any other books for so long. Nothing seemed to compare to this novel at all! Rather than start a new book, I just re-read this one instead ha-ha!
N | Number of book cases you own
… four … but okay, TWO of them are medium sized from Ikea — one is TECHNICALLY a TV shelf thingy where I place books in the shelves  — and one is a night-side table from Ikea that has a four box thing where I put my currently reading books … I don't have a problem …
O | One book you've read multiple times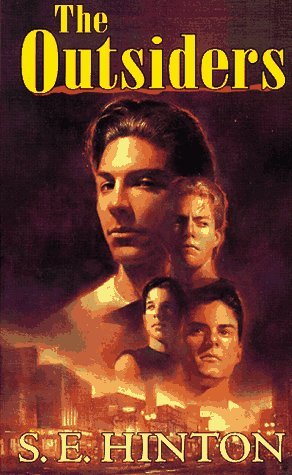 Every couple of years, I just get this urge to re-read Hinton's The Outsiders. The story is beautiful and the characters are full of depth. It's also about 200 pages, so it's a fairly quick read.
P | Preferred place to read
Either on my couch in my living room or at the cottage on the dock. The latter is definitely the preferred — but the couch is the more achievable on a daily basis ha-ha!
Q | Quote that inspires you/gives you all the feels from a book you've read
Sorry folks, I couldn't choose just one — so I chose my top three.
"People say nothing is impossible, but I do nothing every day." — A.A. Milne's Winnie-the-Pooh
Let's be real — I could live by so many quotes from Milne's series. But this one always speaks out to me.
"The most beautiful things in the world cannot be seen or touched, they are felt with the heart". — Antoine de Saint-Exupéry, The Little Prince
Again, there are a number of beautiful quotes from this children's novella. This one though is so accurate — the most memorable moments and beautiful memories are those that are felt, that gave you feelings and emotions you couldn't describe nor contain.
"I am the master of my fate, I am the captain of my soul." — William Ernest Henley's Invictus
I read this poem early undergrad and was absolutely captivated by this quote. It's so powerful, telling the world we CAN make a change, that we are not bound by destiny or fate.
R | Reading regret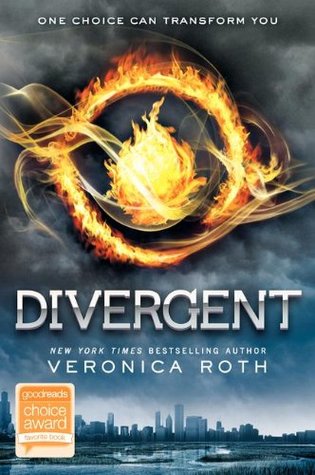 Honestly, I thought I was going to put Stephanie Meyer's Twilight … but I actually don't regret reading it, but it did interest me at the time. But T H I S series … UUUUUUUUUUUUUUUUUUUUUGGGGGGH! Veronica Roth DESTROYED ME with the ending of this series, making the whole journey seem pointless. I was going to put the third book, but not reading Divergent Book One would've prevented all the pain and anguish earlier on!
S | Series you started and need to finish (all books are out in the series)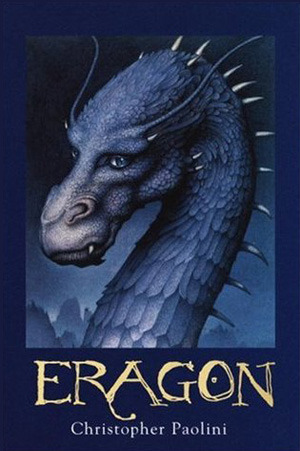 When Paolini's Inheritance series first released, I was HOOKED! Not only was the fantasy genre my preferred reading choice at the time, but I just found the story so compelling. But after Paolini extended the series to four books … I just felt like the story began to flop. But one of my regrets is not finishing this series … might be a goal for 2019.
T | Three of your all-time favourite books
I know … I bet you lot are shocked I didn't put Harry Potter … I couldn't pick just one of the books …
U | Unapologetic fan-girl for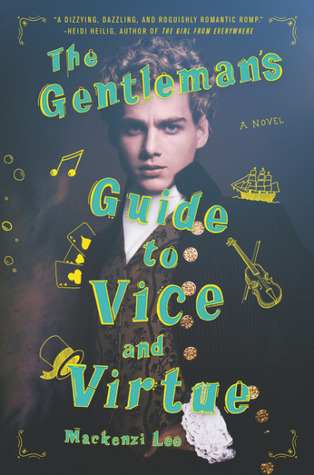 Yup — I'm mentioning it again — Mackenzi Lee's The Gentleman's Guide to Vice and Virtue was my favourite read on 2017 — and I LITERALLY couldn't stop talking about it! Okay, let's be real here … I STILL can't stop talking about this book. I will NEVER stop fangirling about this amazing novel!
V | Very excited for this release
There's no cover image for this book yet, but Adrienne Young's upcoming release The Girl the Sea Gave Back is definitely the most exciting release to me this year! I loved Young's Sky in the Deep — so I LITERALLY can't wait to get my hands on this one! I never pre-order books, but I may have to do that for this one.
W | Worst bookish habit
Definitely copying Laura Beth on this one — I tend to buy more books than I can handle, especially when I have a BUNCH of books that I currently own that I need to read FIRST … oh weeeelllllll.
X | X marks the spot: Start at the top left of your shelf and pick the 27th book
I still haven't read Keenan's Catching Stars yet — planning to this year though!
Y | Your latest book purchase
Autoboyography by Christina Lauren and Almost Midnight by Rainbow Rowell … both A M A Z I N G reads by the way!
Z | ZZZ-snatcher book (last book that kept you up way too late)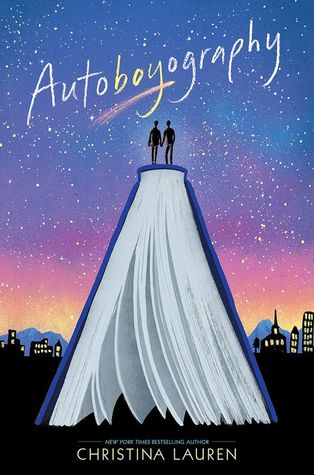 Christina Lauren's Autoboyography is impossible to put down — I'm fairly certain I stayed up until 3AM reading this one night — thank GOSH it was a Saturday ha-ha!
Tag! You're It!
Beware Of The Reader | Page to Page | BooksNest | Jill's Book Blog | A Book. A Thought.