Hey beautiful people!
Alex @ WhimsyPages and Rachael @ Dog-Eared Pages both recently posted about the OWLs Read-a-Thon … WHY HAVE I NOT HEARD ABOUT THIS BEFORE?! I read over their posts and fell in love with the concept. Though it's already started, I'm still going to give it a go. I really need some motivation to get a few ARC's completed, in addition to just finding motivation to read for pleasure rather than going straight to Netflix.
Let's get to it!
The Challenge Information
The creator of this beautiful challenge is Book Roast. As discussed in her video, the read-a-thon is a challenge inspired by the Hogwarts exam called O.W.Ls — Ordinary Wizarding Level. To take part in the challenge, you must:
Visit Book Roast's video.
Download the two links provided in the description portion of her video.
Select your Wizarding Career Path from the Wizarding Careers pamphlet.
Find the specific page that discusses the career you've chosen and find the O.W.Ls section; this will list the O.W.Ls you are required to take.
Open the O.W.Ls Prompts document and find the O.W.Ls that were listed under the career you chose.
Find a book that matches whatever the prompt is.
My Wizarding Career Path: Hogwarts Professor
It was honestly between this and the Librarian career … since I AM a librarian in real life. But I want to not only do this for fun, but as an opportunity to catch up on SO many ARC's that I've yet to complete … including some NetGalley books that I've had for longer than I care to admit … *running away in shame* …
In order to complete this, I'll have to pass 7 O.W.Ls in total:
A subject you wish to teach
Defense Against the Dark Arts
5 additional subjects of your choice
The subject I would like to teach is Care of Magical Creatures. The remaining 6 subjects are: Charms, Defense Against the Dark Arts, Divination, Herbology, Muggle Studies, and Potions.
Care of Magical Creatures | Land animal on the cover
I received this from the authors for an honest review in February — so not too bad. I'm almost done too, which will make this easier to finish.
Synopsis: A wave of delight and anticipation sweeps through a small community of red squirrels as they behold a vast fleet of boats carrying their distant cousins towards them. They will no doubt bring incredible wealth, wisdom and joy to the humble squirrels of Nutshaven.

However, the dream soon becomes a nightmare. Their distant cousins soon turn out to be enormous and brutish bullies of an ever-expanding Grey Empire. Shadowtail – the brilliant but intensely evil Grey leader – announces that their lives are about to radically change … [view more].
Charms | Age-line: read an adult work
Albanese asked me to review his collection of poetry early this year and I loved it. Now he's asked if I would like to review this short story — which I obviously said yes to. This typically isn't my favourite genre, but I love his writing so I'm pretty excited.
Synopsis: Evan Summers is a detective with a shameful past, a muddled present, and an uncertain future. While investigating a series of gruesome murders and trying to battle his alcoholism, Summers will try to reconnect with his young son. But when a break in the case puts his family at risk, it will be up to Summers alone to capture the mysterious killer. It will test the limits of his addiction, and make Summers decide how just far he will go to protect the person he loves [view more].
Defense Against the Dark Arts | Reducto: title start with an "R"
Technically, I've finished this one at the beginning of the month — so one down, six to go! This challenge DID start at the beginning of the month AND I don't have any other books that begin with "R" at the moment … so yup … this is counting!
Synopsis: Chloe Saunders is fifteen and would love to be normal. Unfortunately, Chloe happens to be a genetically engineered necromancer who can raise the dead without even trying. She and her equally gifted (or should that be 'cursed'?) friends are now running for their lives from the evil corporation that created them.

As if that's not enough, Chloe is struggling with her feelings for Simon, a sweet-tempered sorcerer, and his brother Derek, a not so sweet-tempered werewolf. And she has a horrible feeling she's leaning towards the werewolf…Definitely not normal [view more].
Divination | Set in the future
Fleury contacted me the first week of March and asked if I would review this novel. I've actually been wanting to read a dystopian novel for some time … and I believe this is a standalone, which is what I wanted.
Synopsis: WHEN THE OCEANS RISE…THE TRUTH DROWNS. It's the year 2031. Our future. Their present. A world decimated by climate catastrophe, where the sun's heat is deadly and the ocean rises higher every day. A world ruled by the rich, powerful, and corrupt. A world where a good man can't survive for long … [view more].
Herbology | Plant on the cover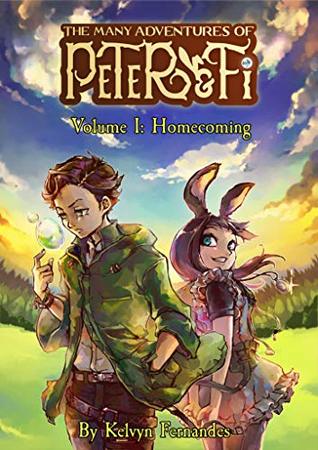 Another book request — I got a lot of requests fairly early this year, which is abnormal for me but I'm not going to complain! This is another early March request, so I'd like to get it done by the end of the month!
Synopsis: Follow Peter and Fi as they work together, each searching for something uniquely special to them through the four kingdoms of their known world. It's a tale of fantastical beasts, peculiar characters, remarkable settings, and a unique brand of biochemistry-based magic. A story that focuses on meaningful character interactions, delicate world building, and intense action battles … [view more].
Muggle Studies | Contemporary
Oh boy … I'm not even going to TELL you lot when I received this. It was a NetGalley book that I was randomly selected for … a WHILE ago … seriously, the shame is sinking in. I have two books from NetGalley like this, so I thought I would tackle the shorter one. And yes, I'm well aware it's a Christmas book … but if I don't read it now, I'm going to forget … AGAIN …
Synopsis: 1914. Young Lexi doesn't want much – just her family's happiness. She's been working all the hours she can at the local sweet shop to help her mother lift her little brother and sister out of poverty. Maybe one day, if she tries hard enough, they can save enough to leave their tiny, cramped flat – and terrifying landlord, Mr McCann – behind. Although Lexi can't help but wish her friendship with the landlord's son, Johnny, could turn into something more … [view more].
Potions | Next ingredient: sequel
I loved the first book and then started the second … and just kind of stopped? It's not a bad book at all! I actually have no idea why I just stopped reading it … maybe the fact that I'm not used to reading 500+ pages anymore ha-ha! But here's to FINALLY finishing it!
Synopsis: Welcome to the world of the Grisha. Kaz Brekker and his crew of deadly outcasts have just pulled off a heist so daring even they didn't think they'd survive. But instead of divvying up a fat reward, they're right back to fighting for their lives … [view more].