Hey beautiful people!
This weeks Top 5 Wednesday topic is Favourite Jokesters. These TEND to be my favourite character in novels, so I'm excited for this weeks prompt!
This list will include fictional characters from books AND television shows/movies. In addition, the list below is not in rank of order — just randomly listed as my top five.
Five. Fred and George Weasley from the Harry Potter series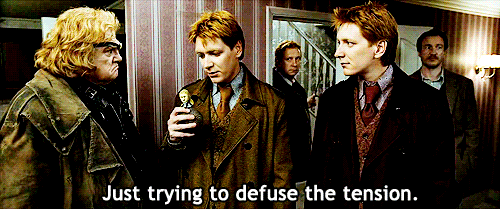 Well … this one's a given. In the books and the films, the Weasley twins are just HILARIOUS! Not only are they typically the comic relief, but they also provide added entertainment with their pranks and mischievous shenanigans.
Four. Two-Bit Mathews from The Outsiders
Keith "Two-Bit" Mathews is the PINNACLE of a jokester — in almost ALL circumstances, he has a grin on his face and has something hilarious to say. Out of all the boys in Hinton's The Outsiders, he's my favourite — he finds happiness in the small things and can make a joke about anything.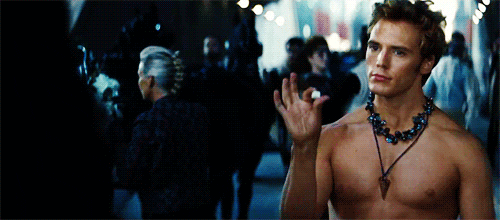 Another character that's both a jokester in the film adaptations and the books. Finnick and Haymitch are my favourites, but Finnick (in my opinion) fits this category a little more. He's not blatantly funny, more sly and mischievous. Even though he's caught up in this sick and twisted event, he still manages to add some sarcastic humour and lighten up the mood a bit. DEFINITELY a great character.
Two. Chandler Bing from Friends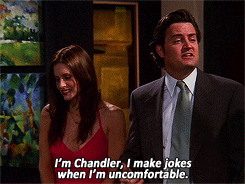 Oh my gosh … it took me FOREVER to pick a GIF because there are just SO many funny moments with Chandler. I was one of those people who didn't want the series until MUCH later … and then became obsessed. It's honestly my happy show, where all is right in the world. Chandler from day one has been my favourite … he's hilarious, awkward, sarcastic, and also a really good friend (probably the better one out of everyone IMO).  No matter WHAT … he has something witty/sarcastic/funny/comical to say.
One. The Joker from Batman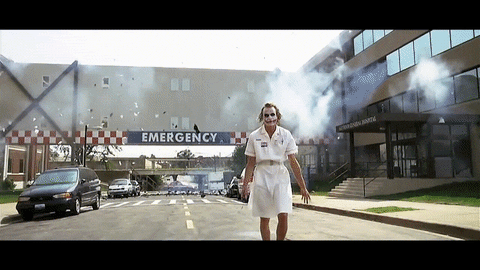 The comics, the old cartoon shows, the numerous movies, the video games, the new television shows … no matter WHO plays the joker … no matter WHAT adaptation or media format … the Joker is ALWAYS hilarious … except for that one time in Suicide Squad … let's just pretend that didn't happen.
What's hilarious is I'm petrified of clowns … basically a phobia. But the Joker remains as my favourite villain to this day. His sick and twisted sense of fun and ambition somehow seem, well, comical. This is one of those character's I would've LOVED to write a paper on in behavioral psychology — because SO many people feel this way about his character.
Literally … he's SO messed up … but he still makes people L A U G H. Life is a big joke to him, with the world as his canvas for destruction … but always with a wicked smile and devious humour.
Do you agree with my list? What are some of your favourite jokesters?