Hey beautiful people!
Fernandes' hilarious and action packed fantasy novel was such a thrilling read. Going in with some hesitation, I'm extremely happy I accepted Fernandes' book review request. The Many Adventures of Peter and Fi will have you laughing to tears, holding your breath in angst, and eager to keep knowing more and more about Peter and Fi!
The Many Adventures of Peter and Fi Volume 1: Homecoming is currently available in paperback, eBook and audiobook. At the present time, the eBook and audiobook are available free of charge through the link provided below! For those wishing to read a fantastic adventure story, I highly suggest getting a copy now!
Link: The Many Adventures of Peter and Fi Volume 1: Homecoming
About the Novel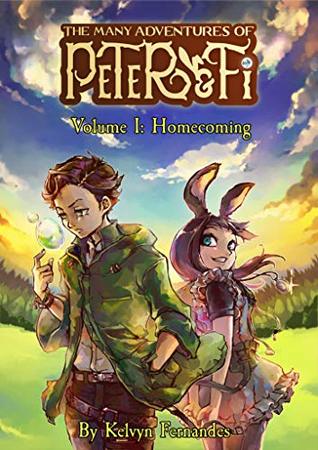 Title: The Many Adventures of Peter and Fi Volume I: Homecoming
Author: Kelvyn Fernandes
Links: Amazon CA | Book Depository | Goodreads | Kobo
Age Group & Genre(s): Adventure, Fantasy, Magic, Young Adult
Point of View: Alternating Third Person
Pace: Fast-paced
Publisher: Independently Published
Publication Date: 2018
Format: eBook
Pages: 273
Excerpt from The Many Adventures of Peter and Fi Volume I: Homecoming
She emerged within a dark sea of green, shielding her eyes against the crescent moon's pale
blaze. The twinkling stars hummed softly, discordant against the chattering birds below. The lush leaves rippled in the breeze, tempting Fi to dip her toes in for a swim. The wind blew at her back and she turned east to face it. The fresh air carried the salty spray of the Shimmering Sea.
Although she could not see it, she knew it was right there. Her ears caught the distant waves crashing against the shore. One last step, she thought.
The Interview Questions
Q. "The Many Adventures of Peter and Fi" is a fantastic and thrilling fantasy/adventure story. What appeals and interests you about these genres?
A. I love getting lost in fantasy worlds; compelling stories that I can dive into, forgetting about real life for a few hours at a time. It's so much fun to watch characters grow and develop, discover the incredible places my mind can take me, and learn all the new and incredible ways that people can tell their stories.
Q. Were there any real life inspirations for either the characters, plot, or setting in your novel?
A. All my characters have bits and pieces of themselves taken from real life inspirations. Both myself and those around me are represented in every character I write. I wouldn't say any one character is based off of any one person. Rather, I take one or two traits from someone I know, combine it with a fresh idea and let a personality grow from those seeds.
Environments are born in my imagination, but that imagination was developed by all the places that left their mark on me. The Faronese Forests in particular, are based off my experiences in Algonquin Park. A national park in Ontario, Canada, I've spent many weeks canoeing in the back country with my friends and wanted to incorporate such a magical place into my world.
Q. Can you give a brief summary on what "The Many Adventures of Peter and Fi" is about for those who haven't come across it yet?
A. The story follows Peter and Fi as they work together, each searching for something uniquely special to them through the four kingdoms of their known world. It's a tale of fantastical beasts, peculiar characters, remarkable settings, and a unique brand of biochemistry-based magic. It's a tale that focuses on meaningful character interactions, delicate world building, and intense action battles.
Q. Let's get to know your main characters a bit more — if they were on a deserted island, what three items (aside from the essentials) would they not be able to survive without?
A. My main characters are a young man named Peter and a girl named Fi. Peter would take with him his comforting green overcoat, a practical pocket knife, and a good book that'll challenge him mentally. Fi would carry the silver locket she always wears around her neck, a tinderbox, and a hunting knife she'd make sure was longer than Peter's.
Q. What is your writing Kryptonite?
A. I am very easily distracted… unfortunately. It's so hard to keep focus even when I'm writing a scene I'm really interested in. All it takes is for me to get stuck on one word or the phrasing of a sentence and the urge to tab out and spend a few minutes on Reddit or YouTube always seems to overcome me.
Q. Who are some of your favourite authors?
A. My favourite authors right now are George R. R. Martin, Brandon Sanderson, and Haruki Murakami; Martin for his intricate world-building, Sanderson for his detailed magic systems, and Murakami for his engaging characters and wacky plots. Growing up, I enjoyed reading the works of JK Rowling, Emily Rodda, Kathryn Lasky, and Christopher Paolini.
Q. In your opinion, what is the hardest thing about writing?
A. Writing when you don't want to write. Inspiration doesn't always come. When it does, it's an awesome feeling and you can really go on a tear. But oftentimes, I find myself unsure of the path my story is taking or else not confident in the strength of my words. But if you let yourself get bogged down, you'll ever finish the story you're meant to tell. You cannot wait until the next bout of inspiration arrives, you need to push through and find it.
Q. Beyond writing, what are some of your other interests?
A. I enjoy ingesting media. Books, programs, films, video-game, music, news. The more things I experience in as many different ways, the stronger and more unique my writing will become.
Similarly, I enjoy adventuring; finding new places and interacting briefly with new people from all walks of life. Every new experience is another impression I can use to fuel my craft. My favourite activity in the world is back-country canoeing in Algonquin Park.
Q. You are stranded on an island and you only have three books with you. What would those three books be?
A. Norwegian Wood by Haruki Murakami (a book I don't think I can grow tired of) Harry Potter and the Order of the Phoenix (the book I've read more times than any other) American Gods by Neil Gaiman (a book I haven't yet read, but anticipate that I'd really enjoy).
Q. What advice do you have for other writers?
A. Just write! Seriously, you'll never know whether you're any good at it until you find out. If you're unsure or embarrassed, keep your writing to yourself or share it anonymously. But when you're ready, show it to your friends and family and ask for their input. You need to have confidence in your work in order for it to succeed. Also, don't just blindly take advice if it doesn't fit your style. Go against conventions! Who cares? Do what you want in the way that you want to do it, and your passion will drive you forward!
About the Author
Kelvyn Fernandes decided to follow his dream of becoming an author after graduating from McMaster University with a degree in Biochemistry.
He enjoys travelling and going on adventures, with his favourite pastime being back-country canoeing in Algonquin Park. He uses both his experiences with nature and education in the sciences to shape the world of the stories he writes.
Social Media
Patreon | Reddit | Twitter | Instagram | Facebook