Hey beautiful people!
This weeks Top 5 Wednesday topic is SFF BFFs (BooktubeSFF Awards Crossover Topic): "Discuss your favorite friends in Scifi and Fantasy, or characters you'd be BFFs with."
I feel really dumb, since I don't know what BooktubeSFF Awards are … but anyway, the topic is about either favourite friends in Sci-Fi and Fantasy, or characters you'd be BFFs with. I think I've done the latter already, so I'm going to discuss my favourite Sci-Fi and Fantasy friends in literature, television shows and movies!
Five. Gimli & Legolas
I'm going with the film franchise, for I haven't actually read the books *for SHAME* … but, it still works. These two, who initially can't stand one another, are the pinnacle of friendship! I'm a huge fanatic of the Middle Earth lore, so I remember looking into both of these characters … if you find out their fates in the novels, you TOO will also understand how strong of a friendship these two have. And the banter — oh, the banter!
Four. Dutch & Johnny Jaqobis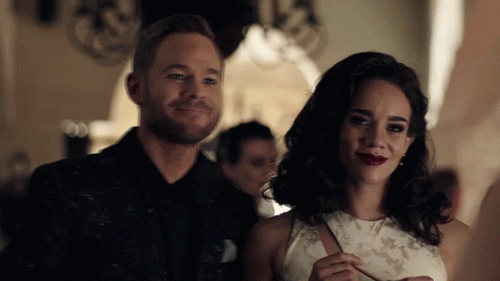 I discovered this show a couple of years ago … and became ADDICTED! Seriously, binge watching episode after episode until I caught up — and then had to impatiently wait. What I love is this is one of those rarities where the two best friends are JUST best friends, and they are the central reason for watching the show. Dutch and Johnny will do anything to protect one another, but they also have this profound trust in the other person. The friendship isn't perfect, but it feels genuine and real.
Three. Harry Potter & Hermione Granger

Another ALL TIME FAVOURITE! Everyone goes ON AND ON about Ron and Harry … but Hermione's a WAY better friend! I love her and Harry's connection. They may not always agree with one another, but they listen and try to understand. Hermione may not always agree with Harry's instincts (she does WAY more than other people do though), but she will set aside her mistakes when this happens and help in anyway she can. AND she's totally the reason why Harry and Ron are still alive in this series …
Two. Simon Lewis & Clary Fray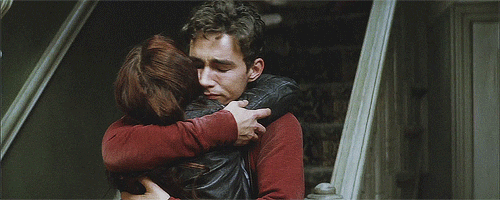 I think I mentioned these two in a different book tag, but I don't care lol. I love Simon and Clary's friendship — I honestly could've cared less for the whole Jace and Clary interest thing — I wanted more Clary and Simon moments! Even though he doesn't even belong in this scary world, he jumps head first to protect his friend. And even though the two have their rough patches, they are still there for one another no matter what has happened. They are just so DARN CUTE!
One. James T. Kirk & Mr. Spock
These two … they are more than friends … they're family. What I love is how their friendship started in the film franchise as enemies — ready to pounce at one another at any moment. But these two learn to put aside their differences and create the most beautiful friendship ever. They sacrifice so much for one another, no hesitations. And honestly, the banter between these two is JUST TOO GOOOOOD!
Bones and Captain Kirk/Scotty and Captain Kirk are also runner ups … just sayin'.