"You've only scratched the surface of what you're capable of."
Synopsis: Follow Peter and Fi as they work together, each searching for something uniquely special to them through the four kingdoms of their known world. It's a tale of fantastical beasts, peculiar characters, remarkable settings, and a unique brand of biochemistry-based magic. A story that focuses on meaningful character interactions, delicate world building, and intense action battles.
Source: Goodreads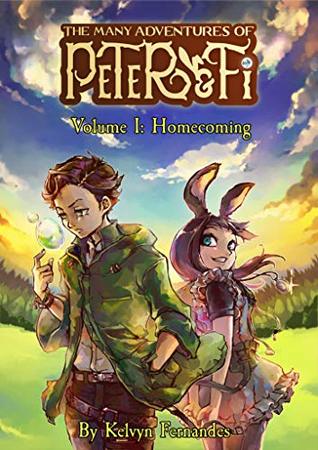 Title: The Many Adventures of Peter and Fi Volume I: Homecoming
Series: The Many Adventures of Peter and Fi, Book One
Author: Kelvyn Fernandes
Links: Amazon CA | Book Depository | Goodreads | Kobo
Genre / Themes: Adventure | Fantasy
Point of View: Third Person
Publisher: Independently Published
Publication Date: 2018
Format: eBook
Pages: 273
I received a free copy in exchange for an honest review; thank you for the opportunity to read and review this novel. This in no way sways my review or opinion of the novel.
Fernandes reached out to me earlier this year, asking if I would be interested in reading his adventure novel. Honestly, I was going to decline — I've been trying to not accept as many free copies and ARC's this year, since I currently own so many other books I'm eager to dive into. LUCKILY … I said yes, for this novel was AMAZING! Seriously, I haven't enjoyed a fantasy novel in SUCH a long time! The flow of the story, the characters, the ever-growing plot … just wonderfully done! I'm honestly baffled as to why this hasn't been discussed more in the bookish community, for it deserves MUCH more attention and praise.
CONTENT & TRIGGER WARNING: This book contains death of an animal, death (murder), blood (gore, graphic injuries), cannibalism, loss of a loved one and violence.
A stylistically complex world-building plot, Fernandes' novel promises a true "fantasy adventure story". When contacting me, Fernandes described the novel as an adventure story with fantasy and magical elements to it … and boy, did he deliver what he promised! Following Peter and Fi as they travel this magical world with a quest at hand, a number of obstacles block their way. An adventure story told through a number of connected short stories, this method of writing provides both entertainment and world-building development. Rather than simply DUMPING a bunch of information on the readers, Fernandes has slowly begun to introduce a number of important characters and side plots into the story that will later develop more into the central plot-line — perfect for story comprehension AND maintaining my interests. For those of you who want to try an epic fantasy yet are scared off by not being able to follow along, you'll be pleasantly surprised when reading this novel.
Peter and Fi are absolutely comical and intriguing main characters, the driving force of Fernandes' novel. Character-oriented readers, prepare to be AMAZED, for Peter and Fi just moved HIGH onto my favourite pairing in literature list! Peter, a 20 year old mage, is tremendously intelligent and witty. Though his abilities appear useless and dull, Fernandes is able to provide entertainment while also demonstrating how surprisingly useful these gifts are. Fi, a 14 year old puzzling and mysterious young lady, is a little spitfire that actually saves both herself and Peter more times that one can count. Knowing only that these two have recently joined forces to aid one another on separate quests, readers will be blown away by their amazing bond and friendship. With Peter's little snippets of sarcasm and Fi's high-spirited and sassy personality, the laughs are ENDLESS! Between their amazing personalities and tremendously developing backstories, reading this novel to know these characters is reason in itself.
An interesting twist on magic that's original and fascinating! At first, I wasn't sold on how the mage abilities and magical elements worked — it just seemed COMPLETELY different to what I've read in other fantasy novels. But I ended up LOVING IT, for it provides a new take on magic but still makes sense on a "fantasy genre" level. With a remarkable spin that makes each mage so much more unique than how mages appear in other novels, I truly hope Fernandes will explore this more in the sequel.
Though leaving us off with more questions than answers, the novel ends smoothly for the next story to come! Typically, I'm not a fan of cliffhanger endings; they make me frustrated and disappointed. Fernandes, however, executes a great transition from slowing down the story yet getting readers excited for the next chapter in Peter and Fi's adventures! And though the novel leaves readers questioning and curious about a number of elements regarding both the world itself and the characters in the story, Fernandes provides some relief by providing ENOUGH to keep us happy yet NOT ENOUGH to make readers want to abandon the plot — very well played, Fernandes.

The flow of the story is perfection — but the chapters were SO LONG! The issue with long chapters is it makes it hard for readers to find the perfect point to stop … which, in-turn, causes the annoying habit of skimming the story. Unfortunately, I'm one of the many people who simply doesn't have the luxury of reading an entire book in one sitting … so having these smaller chapters makes my reading experience more manageable and enjoyable. But when I'm reading an action scene and notice I have to get back to work, I end up skimming since it feels awkward to end at this point. This made the reading experience longer, for I had to go back and re-read sections a number of times as I grew confused.
Though the majority of the story is beautifully descriptive, there are a number of sections that made me think … what just happened? Luckily, this didn't occur often. For the most part, the writing was so detailed that I barely had to use my own imagination. There were, however, some descriptions of battle scenes and of certain mythical creatures (that I STILL can't comprehend how they look) that made my head spin — I just couldn't grasp what was going on visually, which was frustrating as I basically play out novels in my head like a movie.
There simply was NOT enough detail about the world, causing confusion at times. Though I'm fairly certain Fernandes plans to address more about the world in future additions to this series, I needed a BIT more. The places within the world itself and the politics behind it are all mentioned, but it's easily forgotten and isn't explored as much as I would've liked. The government bodies, the previous war(s), the fascinating yet complex magic system at hand … there were so many INTERESTING and EXCITING elements to this world, but the delivery of the information felt too incomplete. I also think adding a "map" for readers to visualize would be a fantastic idea!
The Many Adventures of Peter and Fi Volume I: Homecoming is an excellent and thrilling adventure, fantasy series. From goblins to deranged princesses, there's no end to the amount of insane yet interesting adventures that come Peter and Fi's way. The best way I can describe this novel is comparing it to a well done television show, with each chapter being an episode and the novel being the overarching season with the MAIN plot occurring throughout it. A one of a kind novel, Fernandes' story will captivate readers and make them BEG and WISH for the sequel to release soon! Are you looking for an awesome adventure story with twists and turns like no other? Pick up your own copy of The Many Adventures of Peter and Fi Volume I: Homecoming today!