Hey beautiful people!
Alrighty … post number two comin' your way! My reading game is ON POINT so far this year! For some reason, 2018 was just a BAD reading year … I had little desire to read books and write reviews. But 2019 seems to be the year I make my comeback!
Oh! I also just finished reading Red, White and Royal Blue for the "Recently Finished" section but I'm pushing that to next weeks post since my review hasn't been published yet.
What is WWW Wednesday?
WWW Wednesday is a book meme originally created by A Daily Rhythm and revived by Taking on a World of Words. To participate, simply answer the following questions every Wednesday:
What are you currently reading?
What did you recently finish reading?
What do you think you'll read next?
Note: I may or may not do this every week — it will depend on my mood and reading progression.
WHAT ARE YOU CURRENTLY READING?
|| 100 Days of Sunlight by Abbie Emmons ||
Synopsis: When 16-year-old poetry blogger Tessa Dickinson is involved in a car accident and loses her eyesight for 100 days, she feels like her whole world has been turned upside-down.
Terrified that her vision might never return, Tessa feels like she has nothing left to be happy about. But when her grandparents place an ad in the local newspaper looking for a typist to help Tessa continue writing and blogging, an unlikely answer knocks at their door: Weston Ludovico, a boy her age with bright eyes, an optimistic smile…and no legs.
Knowing how angry and afraid Tessa is feeling, Weston thinks he can help her. But he has one condition — no one can tell Tessa about his disability […]
Brief Thoughts: You guys … I request books from NetGalley!! What magic is this?!?! Now that I feel more caught up with my book life, I thought I would finally get back into requesting. I saw this and though the cover was lovely and the story intriguing. Luckily, my request was accepted. I'm about 25% into the book and so far, I'm really enjoying it!
|| Nocturnal by Wilder Poetry ||
Synopsis: Nocturnal is a collection of words and imagery inspired by darkened skies and sleepless nights. it is a journey of healing and self-discovery whether love stays or leaves. it is dreaming with your eyes wide open while the rest of the world is hiding.
— 
and when they ask me, 
are you afraid of the dark? 
i will remind them that 
there's nothing to fear 
when the night is a reason 
we can see how honest 
everything shines 
while the rest of the world 
is hiding. 
Brief Thoughts: As I was strolling in Chapters (as one does because, why not), the cover of this book caught my eye. I read a few passages and I HAD to have the collection. I'm a huge lover of poetry, and this cover was just to DIE FOR!
WHAT DID YOU RECENTLY FINISH READING?
|| On the Come Up by Angie Thomas ||
Synopsis: Sixteen-year-old Bri wants to be one of the greatest rappers of all time. Or at least make it out of her neighborhood one day. As the daughter of an underground rap legend who died before he hit big, Bri's got big shoes to fill. But now that her mom has unexpectedly lost her job, food banks and shutoff notices are as much a part of Bri's life as beats and rhymes. With bills piling up and homelessness staring her family down, Bri no longer just wants to make it—she has to make it.
On the Come Up is Angie Thomas's homage to hip-hop, the art that sparked her passion for storytelling and continues to inspire her to this day. It is the story of fighting for your dreams, even as the odds are stacked against you; of the struggle to become who you are and not who everyone expects you to be; and of the desperate realities of poor and working-class black families.
Brief Thoughts: On the Come Up definitely met up to my expectations! The story is grand, the characters are wonderful, and the overall vibe was just brilliant. Though I did enjoy THUG more, I still highly recommend this novel!
WHAT DO YOU THINK YOU'LL READ NEXT?
|| Love & Gelato by Jenna Evans Welch ||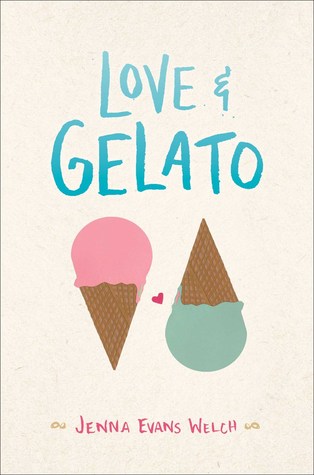 Synopsis: "I made the wrong choice."
Lina is spending the summer in Tuscany, but she isn't in the mood for Italy's famous sunshine and fairy-tale landscape. She's only there because it was her mother's dying wish that she get to know her father. But what kind of father isn't around for sixteen years? All Lina wants to do is get back home.
But then she is given a journal that her mom had kept when she lived in Italy. Suddenly Lina's uncovering a magical world of secret romances, art, and hidden bakeries. A world that inspires Lina, along with the ever-so-charming Ren, to follow in her mother's footsteps and unearth a secret that has been kept for far too long. It's a secret that will change everything she knew about her mother, her father—and even herself.
People come to Italy for love and gelato, someone tells her, but sometimes they discover much more.
Brief Thoughts: I actually do want to get into some fantasy and action based novels, but this is one of the final contemporary novels that I've been dying to read before the end of June … and possibly another NetGalley book but I'm not sure yet. Anyways, I've already read a bit of this but I'm excited and also expecting to cry A LOT!
Look at that … I'm getting the hang of these block things! Have any of you read any of the books above? If yes, what are your thoughts? If not, do you plan to?