Hello beautiful people!
Today is a VERY special day … it's Harry Potter's birthday!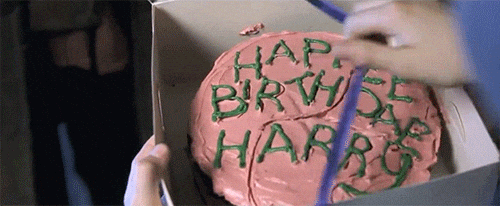 To this day, I remain to be a HUGE Harry Potter fan … I don't think I will EVER grow out of my love for this magical world.
Paige @ Bookish Paige posted The Harry Potter Book Tag in honour of Harry's birthday … which made me think why hadn't I done the same thing?! So here we are! I LITERALLY typed this up and posted today … so if there are NUMEROUS spelling mistakes and what not … I apologize in advance.
Note: I have NO idea who created this. If you happen to know, please leave the information in the comments section. Thank you!
Note 2: Due to the nature of this tag, there are possible spoilers for those of you who haven't read the books or seen the movies … YOU'VE BEEN WARNED!
The Questions
Favourite book
Favourite movie
Least favourite book
Part of the books/movies that made you cry
Favourite character
What would your Patronus be?
If you could have the Resurrection Stone, the Invisibility Cloak, or the Elder Wand, which one would you choose?
What house would you be in?
If you could meet any member of the cast, who would it be?
If you were on the Quidditch team, what position would you play?
Were you happy with the ending?
How much does Harry Potter mean to you?
One. Favourite book
Honestly, I love them all. Every year a new book released, I would read it in a day. But Harry Potter and the Goblet of Fire is the one that stuck out to me the most. It's the ODD book, for it's childish and fun like the previous three — however, it's also the book that creates the transition from child's play to a more dark and sinister series. I also found the Triwizard Tournament absolutely thrilling in the book (so-so in the films).
Two. Favourite movie
Hmmm … it's a tie between Harry Potter and the Philosopher's Stone and Harry Potter and the Prisoner of Azkaban. I STILL remember going to the movies with the family to see this one … and it was the most magical experience. I felt like my whole world had opened up even more. So this is mainly a favourite because of the nostalgia ha-ha!
The third film is also fantastic though, since Professor Lupin and Sirius Black are two of my favourite characters. I also love how much more we get to learn about James Potter and his friends during their days at Hogwarts.
Three. Least favourite book
Like Paige, I don't really have a least favourite book … I love them all. There's none (in my eyes) that seem way worse than the others. But I have to agree with Paige, I could've done WITHOUT the spider part in Harry Potter and the Chamber of Secrets. I have a serious case of arachnophobia … so that was pretty part to read AND watch.
Four. Parts of the movies/books that made you cry
Ummmm … better question … what parts DIDN'T make me cry … yup … much better question to ask ha-ha.
There are three MAJOR moments that made me cry, both in the book and the films. The first is Sirius Black's death. After EVERYTHING Harry has been through, he finally comes close to having a family member to live with that ACTUALLY cares for him unconditionally. But not only does Harry lose him, he watches Sirius die. It broke my heart in both the film adaption and the book. Not only did Harry lose so much, we all lost an amazing character.
The second is the death of Hedwig. She's been Harry's companion since the beginning, never leaving his side (I wish they had her in the films more like she is in the books). But when she sacrifices herself to save Harry, I literally couldn't take it. Firstly, the death of animals always gets to me. Secondly, Harry loses a pet that truly cared for him. But the most important thing is that her death is a symbol of Harry's childhood and innocence being ripped apart from him. There's no going back to the good ol' days.
Lastly, the scene RIGHT before Harry gives himself up to Voldemort. When he uses the resurrection stone to see his loved ones one last time, I literally bawled my eyes out. Not necessarily because it's a symbol Harry's about to die, but because it's a reminder of everything and everyone he's lost. But it was also this beautiful moment, for he has the chance to see his loved ones again. There's honestly just so many emotions going on during this scene. A reminder of the things Harry had taken away from him and of what could've been, but also a beautiful moment for Harry to find strength in.
Five. Favourite character
Okay … I can't choose between these characters … so I'm naming them all: Luna Lovegood, Fred Weasley and George Weasley.
I know there's only SO much time in the films, but I REALLY wish these three had more screen time. There are so many missed moments from the books that would've made the films 10x better!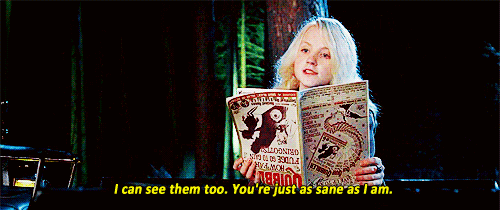 Luna is just … how can you NOT love her? She's quirky, down to earth and loves being herself.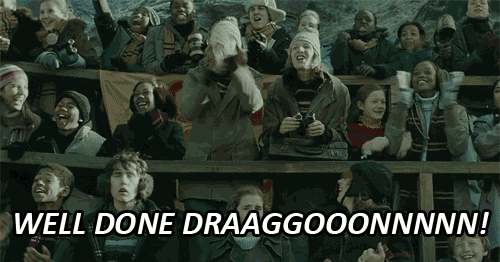 Fred and George are just hilarious, but I love how they do have some differences between one another. I also love how much they care for one another, a bond that's literally the strongest thing ever.
Six. What would your Patronus be?
I OBVIOUSLY have a Wizarding World (a.k.a. Pottermore) account, so I've done the test for this. As much as I WISH I had an Otter, I have a Stoat … which is actually SUPER FLIPPIN' adorable so I'm happy about that as well.
Seven. If you could have the Resurrection Stone, the Invisibility Cloak, or the Elder Wand, which one would you choose?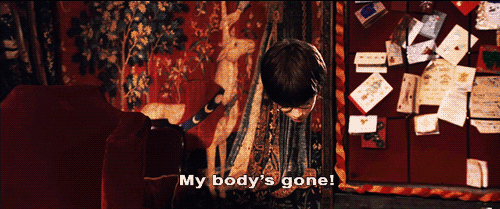 Hmmm … probably the invisibility clock. I like the wand I have (again, Wizarding World test) and I don't want the torment of the resurrection stone as it's more of a curse than a gift in my opinion. But with the clock, I get a cozy blanket to snuggle up in and LITERALLY hide from the world … and I would TOTALLY use it to prank people.
Eight. What house would you be in?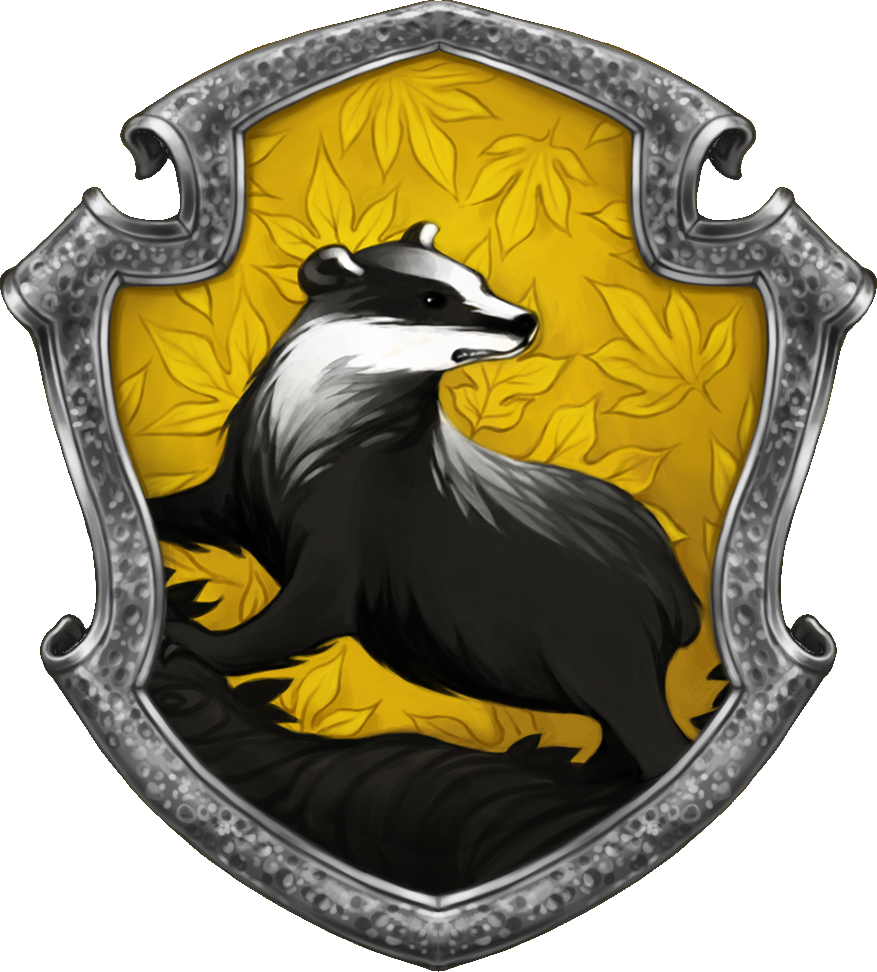 According to Wizarding World, I'm a Hufflepuff … and I'm PROUD OF IT! I love the Hufflepuff house, even before I was placed in it. The virtues they uphold are things I firmly believe in … and some of my favourite wizards and witches are from that house too! The dorm room is also super chill … just sayin'.
Nine. If you could meet any member of the cast, who would it be?
Probably Emma Watson or Gary Oldman. Emma Watson is known to be a HUGE book nerd, so I feel like we'd have a lot to talk about. And she seems pretty down to earth. I've been a HUGE fan of Oldman for as long as I can remember. Getting to hear in person about his experiences would be phenomenal.
Ten. If you were on the Quidditch team, what position would you play?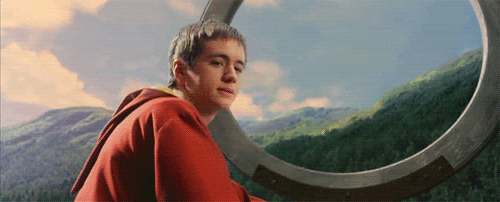 I've actually done a test this, because I'm THAT much of a nerd. Apparently, I'd be a keeper, which is flippin' awesome in my opinion!
Eleven. Were you happy with the ending?
Yes and no? Yes because I thought it ended beautifully, a series that actually seemed to be perfection by the end of the final book. A part of me wanted a couple of chapters of them rebuilding themselves and of their adult years, but I was very happy with how Rowling chose to end Harry Potter and the Deathly Hallows.
However, there's always a part of me that's INCREDIBLY sad when something ends. I'm TOTALLY one of those people that gets super emotional when something they love comes to an end … guys, I BAWLED at the end of the Friends TV show. It's that bittersweet moment, for you had a lovely time during it all but know now that it's done.
Twelve. How much does Harry Potter mean to you?
There are ACTUALLY no words. I've always been a huge reader, but this series opened my eyes to a completely different world. I'd never wanted to be apart of something so much in my entire life until I read these books. Dreaming of getting my Hogwarts letter, wanting to become a carer of magical creatures, meeting other magical folks … it was ALL I thought of … and I still dream of it today as a grown young adult.
This series also came at a time in my life where I struggled a lot with friendships and bonds. I didn't really build close relationships with people until much later, since I always was hurt or disappointed. But Rowling's series made me feel alive, as though I was a part of something when I felt lost.
So how much does Harry Potter mean to me? There really aren't words.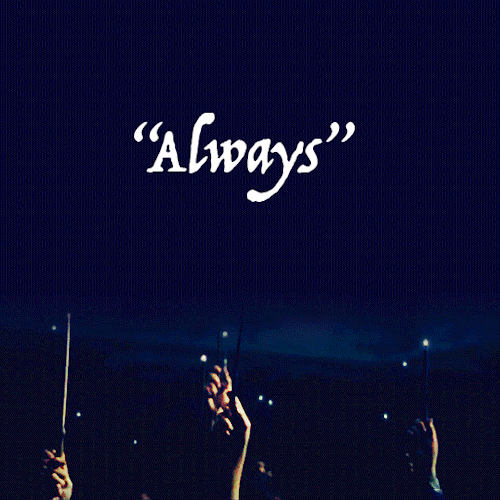 The Nominees
A Book. A Thought. | Whimsy Pages | mousaibooks | The Bookworm's Feast | Tomes with Tea