Hello beautiful people!
It's one of the most important days of the year … Happy May the Fourth!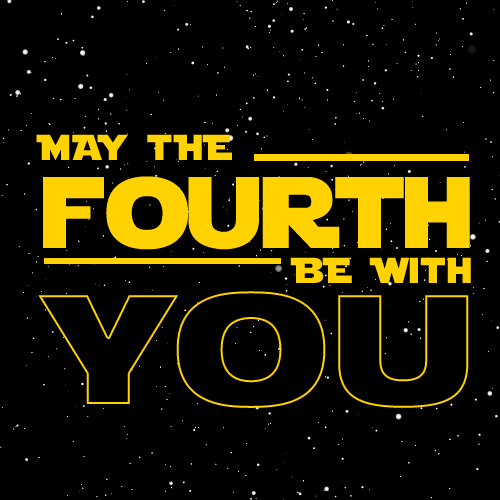 I grew up on Star Wars … my dad is a HUGE Star Wars lover … as in, he's one of the EPIC people who waited in line opening night to watch Star Wars Episode IV because he KNEW it was going to be AMAZING! When I hear that epic opening music, my heart just races a mile a minute — FULL of nostalgia! So him and I ALWAYS remember to wish one another Happy May the Fourth … because it's an awesome day!
The creators of this tag are Booktubers Elisabeth Paige and Joana Sousa. Joana's YouTube Channel seems to be down, since I can't find it anywhere. But Elisabeth video is still available to view!
WARNING! There's a section about worst character death … so, that's a spoiler. And I don't know how to hide things in WordPress … so just SKIM that part … it's Harry Potter related, if that makes a difference.
R2-D2: A book that made you laugh out loud
Red, White & Royal Blue by Casey McQuiston
Oh my gosh … I laughed SO HARD while reading this novel! Alex is honestly just hilarious … his mannerisms, his exclamations, his blunt nature at times … I can't get over how much I love his character. But I also just thought how most of the characters in general bantered with one another was hilarious … I literally laughed out loud multiple times … which was awkward, since I read MOST of this at a coffee shop … he-he.
---
Padme Amidala: Kickbutt female character
Alosa in Daughter of the Siren Queen by Tricia Levenseller
Alosa … now, she's an incredible woman! She's a well-respected captain, with a crew that has her back! Her duelling and combat skills are SO legendary, men are even cautious with not underestimating her due to her gender. Intelligent, fierce and loyal behind belief … Alosa's an ambitious woman that I honestly would love to strive to be like!
---
Leia Organa: Best or worst love triangle
P.S. I Still Love You by Jenny Han
I don't think this comes as a surprise … since most people have PROBABLY seen me rant about this … but I'm not a fan of love triangles … as in, I can't stand them. Seriously, I can't stand them. So there aren't many books that I've read with love triangles in them. But this one … I was SO ANNOYED … especially since Lara Jean didn't end up with the guy I think is more decent and respectful. Oh well … I still enjoyed the series.
---
Luke Skywalker: Rising star author, a new author you've discovered and absolutely love
New Author Discovered: K.A. Tucker
The Simple Wild and Wild at Heart are two of my favourite reads of 2020! I'm honestly in love with Tucker's writing! I don't know how she does is … she just keeps me wanting more and more. I haven't read any of her other books, but I plan to … especially since I've been looking EVERYWHERE for some good New Adult books (I'm very picky with this age category).
---
Anakin Skywalker: A book or series that started out well and then became bad
The Divergent Series by Veronica Roth
To be fair, I haven't brought up this series in a LONG TIME! But really … I was SO ENTICED when I started this series … I couldn't put it down! The story … the characters … the writing … I LOVED IT ALL! And then … that last book … WHY, ROTH?! WHY?! I am STILL mad about it … and it's been well over 5 years since I read the book.
---
Qui-Gon Jinn: Worst character death (SPOILER)
Okay … there are a LOT of worst character deaths in Harry Potter … because Rowling likes to TORTURE US!
I can't choose between these two: Hedwig and Sirius Black. Hedwig's death got to me WAY more than I thought it would … I was devasted! I think it's because Hedwig's death symbolizes Harry movement to adulthood … his childhood innocence fading with the serious tone the series takes. And I can't stand it when animals die.
Sirius Black … yea … I cried for a WHILE after reading that section in the books. BUT SERIOUSLY! Harry FINALLY had the chance to leave the Dursley's and be with his TRUE family … but no — Rowling had to just DESTROY THE DREAM!
---
Han Solo: A book with a lot of sass
The Simple Wild by K.A. Tucker
Calla and Jonah, the main protagonists, are FULL OF SASS! Seriously, they're so smart-mouthed towards one another … it's hilarious. They deliberately find ways to get under one another's skin, going ALL OUT on pranks and other shenanigans. There hate to love relationship is absolutely incredible … ALL THE SASS!
---
Emperor Palpatine: Best world building
Harry Potter series by J.K. Rowling
I haven't read a lot of world-building books, to be frank. But this one will always stick with me. I just love how beautiful and expansive everything is … the magical system, all the different shops and locations, the history behind the world and the characters … even the food! It's just so detailed and absolutely amazing. And, for the most part, the information is pretty consistent.
---
Ben Kenobi/Obi-Wan Kenobi: A book you went in with low expectations and that blew you away
The Ten Thousand Doors of January by Alix E. Harrow
I wouldn't say I had LOW expectations … I don't really go into many books with low expectations, or I simply wouldn't read them. But I didn't think I would love this book as much as I did! The writing's so mesmerizing and poetic sounding, and the story's absolutely incredible! I also love the main character … her character growth is just … ugh … I love it!
---
Yoda: A book that taught you something or that made you grow
Kaur's work taught me a lot about self-respect, knowing there's something beautiful about being a strong and independent woman. But I think the thing I loved the most is how past trauams and events don't define us … we define and shape ourselves. Seeing someone has driven and amazing as Kaur overcome so much despite it all is really empowering … and I love it.
---
Darth Vader: Favorite villain
Lord Voldemort from Harry Potter series by J.K. Rowling
There are probably more villains out there that I could pick … but I find Voldemort's story fascinating. He plans for YEARS his plan regarding the Horcruxes, studying as much as he can to achieve his goals. In the books, he's so much darker and sinister … ambitious to do whatever it takes. Honestly, he's a GREAT villain … you HATE him, but I love how he doesn't do a lot of the SILLY things like reveal all the diabolical plans to the heroes … seriously, who does that?! (he doesn't from what I remember, anyway).
---
I'm not going to tag people … since I know … *dramatic pause* … not EVERYONE loves Star Wars … *dramatic flair … and done*. But please feel free to partake and comment below! Also … what's your favourite Star Wars film?!